WSET Diploma – Unit 3 – Week 5: Alsace
Right now, I'm forcing myself to post at least one picture and story about something I've done since last class that really isn't about diploma class, so here's a picture of spirits I got to taste on Granville Island (before quickly moving to the nearest café to study the rest of Bordeaux). Finding time to enjoy blue skies during a day on Granville Island is literally almost impossible in Vancouver, so I took full advantage of it. My only regret is not snapping more pictures of colourful falling leaves, like a tourist, or a teenager who's taken up photography enough as a hobby to start a Facebook page for his pictures and then stop updating it a month in. I'm sure that was me at one point, and perhaps worse? I should probably delete evidence of such a thing existing. (Was it Xanga? Tumblr? Flickr?)
Fantastic stuff: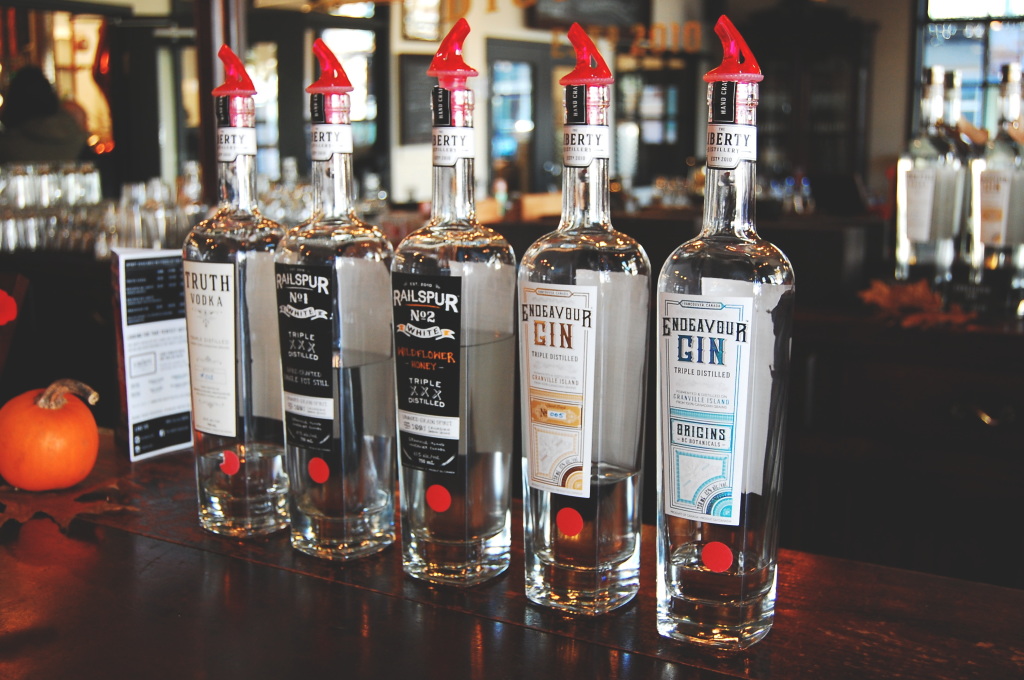 And, here's a picture of the lower half of my face drinking Spanish wine and hanging out with my friend Donita: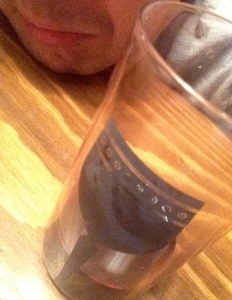 What am I even doing with my mouth? I don't know. I never do, really.
Alsace rivals the Loire in being my favourite French wine region, where it's all about grape purity. It's one of my favourite regions and probably a geologist's wet dream, which by extension, can make studying it complete torture. The region boasts over 20 major soil formations, some which we have to painstakingly commit to memory, and its fancy grand cru vineyard names allude to the linguistic nightmare when it comes time to study Germany. On the yay side, Alsace makes steely unoaked whites with refined character. Though it can be easy to equate a cooler climate to lighter styles of wine, the sunlight in this dry region allows for a lot of the whites to be fuller but still quite fresh.
The clear, cold, and sunny day that we visited the Liberty Distillery is practically a snapshot of Alsace's climate. Though BC's wine region is much more inland, it's also interesting to note that BC does well in producing wines made from the same grapes, some which can resemble their Alsatian counterparts. According to Philippe Zinck (during a seminar I attended earlier in the year, and whose Muscat I got to taste today), this might just help BC's consumers with Alsace awareness.
The first five wines we tried were a mixed bag (not including the obvious Pinot Noir), but the second flight, which consisted of three wines, were chosen to display three different styles of a grape whose identity we had to guess (it was undoubtedly Riesling, which was missing from the first flight).
Next week: The Rhône Valley.
Charles Sparr 2011 Cuvée Tradition Pinot Noir
Hugel 2011 Pinot Blanc
Domaine Zind-Humbrecht 2012 Gewurztraminer
Pfaffenheim 2013 "Pfaff" Pinot Gris
Zinck 2012 Muscat
Domaine Eblin-Fuchs 2010 Riesling Rosacker Grand Cru
Trimbach 2012 Riesling
Domaine René Muré 2007 Riesling Vorbourg "Clos Saint Landelin" Sélection de Grains Nobles