Liquid autumn and potpourri: Domaine Eblin-Fuchs 2010 Riesling Rosacker Grand Cru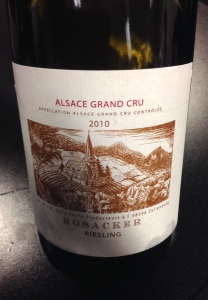 [Tasted during WSET Diploma – Unit 3 – Week 5: Alsace]
We literally start the last flight of three wines with six minutes left in class, so everyone's struggling to speed taste, sort of like that scene in the first book of Harry Potter where Hermione has to figure out what potion Harry has to drink in order to make it through to save the world from Apothic Red, or whatever. They may have cut that scene from the film?
Originally there were simply three appellations for Alsace, and you may still very well group them in that way: there's regular Alsace, there's Crémant d'Alsace (sparkling), and then there's the Grand Cru appellation which implies higher quality than the regular, but of course it's still a subject of controversy. The 51 grand cru vineyards vary in size, the larger ones perhaps not being consistent with grape quality depending on the size and varying soils of the vineyard. Some producers jump on the grand cru vineyard bandwagon for easy cash, and some producers even omit the fact that they use fruit from grand cru vineyards because they choose not to promote the questionable status.
Anyways, I really liked this wine. There was a lot of evolved fruit in this Riesling: along with bits of petrol, there were tons of ripe green and baked fruit, some ripe stone fruit, a bit of spice, and honey. Potpourri, even. The wine was so weirdly reminiscent of autumn to me, almost evoking some sort of Windows XP desktop background. Autumnal spice like wafting leaves, and high acids like brisk winds. Had I had this wine described to me before tasting it, I might not have guessed Riesling.
There was a hypothesis by one or two in the class that this wine may have been cooked or stored improperly, though that's still a process I'm still trying to fully understand. I agree that it's interesting to see this much evolution in a wine that's four years old from a climate that makes steely and long-lived wines, but it's hard to say without much broad exposure. I'm noticing that whenever one of my posts ends with doubt, my solution is always to drink more of it. This is definitely not listed under one of the early signs of alcoholism (yet) so I think we're all good. Hurrah!
Tasting Note:
Eyes: clear, deep lemon, legs
Nose: clean, med+ intensity, developing, ripe green fruit, baked apple, stone fruit, flint, petrol, ripe peaches, autumnal spice, apricot
Mouth: dry, med+ body, high acid, med+ alcohol, med+ intensity, ripe green fruit, baked apple, citrus, petrol, stone fruit, peach, flint, med+ length
All in all: Very good quality: impressive is the evolved fruit that's framed beautifully by the acid. The aromas and flavours are relatively complex and intense, though a bit of length and freshness is missing. Drink now: not suitable for ageing or further ageing.
Identity Guess: Premium Riesling from Alsace Grand Cru AOP, France; 5 years old.
Is really: Premium Riesling from Alsace Grand Cru AOP, France; 4 years old.
Producer: Domaine Eblin-Fuchs
Designation: Rosacker Grand Cru
Region: France
Sub-Region: Alsace
Variety: Riesling
ABV: 13.5%
Vintage: 2010
Tasted: November 17, 2014
Price: $50