Nectar marred by vintage: 2011 Domaine Huet "Le Mont" Vouvray Demi-Sec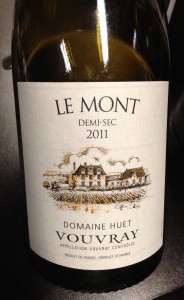 [Tasted during WSET Diploma – Unit 3 – Week 2: Loire Valley]
Beautiful golden colour upon pour. There was no doubt that this was Vouvray even before smelling it, since this was the 7th out of 8 wines we tried this day and we still haven't bumped into a Chenin Blanc that had any residual sugar. I'm a big fan of (quality) sweeter Vouvray, where luscious sweet honeyed quince notes are balanced by high acidity. It's another one of those wines you want to open for people who swear that sweet wines are the equivalent to Satan, or something.
Vouvray, if I'm correct, is the appellation in the Loire which plants the most Chenin Blanc, and the region produces the wine in all styles depending on the vintage – so sparkling, still, and sweet versions are all made. An easy goto for the "if you could drink only one wine for the rest of your life what would it be?" question.
Huet is one of the superlative producers of Vouvray – I've had one or two Huet wines in the past and I've enjoyed them. Had this not been a horrible vintage, the quality would be higher. Unfortunately, the nose and palate were muted and marred by a bit of bitterness, perhaps from some rot. The class agreed, and most placed this in the good category while some thought this was full-on very good quality. That being said, structurally it was fantastic, and the medium-dry wine was balanced out beautifully by high acid. I just wish there could've been more fruit and intensity – I wonder whether or not this would develop positively after a couple of years.
Tasting Note:
Eyes: clear, med gold, legs
Nose: clean, med intensity, developing, ripe green fruit, ripe green apple, stone fruit, mineral, pear, wet wool, closed
Mouth: medium-dry, med+ body, high acid, med alcohol, med flavour intensity, ripe apple, quince, minerality, wet wool, med+ length
All in all: Good quality: the quality of the vintage shows, here, with muted flavours being followed by a hint of bitterness on the finish. That being said, the finish is relatively long with a sufficiently balanced structure. Can drink now, but has potential for ageing.
Identity Guess: Mid-priced Vouvray from Loire Valley, France; 5 years old.
Is really: Premium Vouvray from Loire Valley, France; 3 years old.
Producer: Domaine Huet
Designation: "Le Mont"; Demi-Sec
Region: France
Sub-Region: Vouvray AOC, Loire Valley
Variety: Chenin Blanc
ABV: 13.5%
Vintage: 2011
Tasted: October 20, 2014
Price: $41