Not enough dirty socks, but good anyways: Pfaffenheim 2013 "Pfaff" Pinot Gris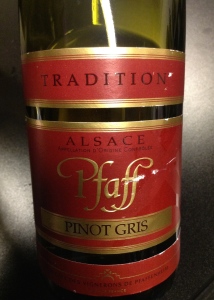 [Tasted during WSET Diploma – Unit 3 – Week 5: Alsace]
I'm a big fan of Alsatian Pinot Gris. I was supposed to make a post on one by another producer last week but drank it too quickly to leave any trace of sobriety ("I'll just buy another bottle, srjgkglrahhh"), and plus I knew the theme of the upcoming class was Alsace, so tasting a Pinot Gris was definitely something that was going to happen, anyways.
The wine was notably Pinot Gris (if not Gewurztraminer) from just looking at it with its coppery tint from pinkish grapes (another reason to love it?). Not as exuberant on the nose like Gewurztraminer or Muscat, but there are hints to stone fruit, mineral, peach, some sort of sweet orange floral notes, and a bit of mango. Fuck cologne: dab this shit behind my ears. Except for the fact that Oz Clarke describes the taste of Pinot Gris as also having "the merest suggestion of something slightly unwashed", but maybe even then. I dig it.
The palate is off-dry as expected but perhaps not broad, complex, or unwashed as I'd personally like. The palate mirrors the nose, with peaches, minerality, and flowers kissed by tropical fruit. Good quality and balance; clean.
Tasting Note:
Eyes: clear, pale gold, legs
Nose: clean, med intensity, youthful, stone fruit, mineral, peach, floral, mango, pear, hint of smoke
Mouth: off-dry, med body, med+ acid, med alcohol, med finish, med+ intensity, stone fruit, peach, hint of smoke, mineral, mango
All in all: Good quality: balance is found between the sweetness, the juicy acid, and the stone fruit on the palate. Though the wine is a bit simple and lacks a longer finish, it has a relatively intense flavours on the palate. Drink now: not suitable for ageing or further ageing.
Identity Guess: Mid-priced Pinot Gris from Alsace AOP, France; 2 years old.
Is really: Mid-priced Pinot Gris from Alsace AOP, France; 2 years old.
Producer: Pfaffenheim
Designation: "Pfaff"
Region: France
Sub-Region: Alsace
Variety: Pinot Gris
ABV: 13%
Vintage: 2013
Tasted: November 17, 2014
Price: $19