Salted caramel ice cream and pride glitter: Domaine René Muré 2007 Riesling Vorbourg "Clos Saint Landelin" Sélection de Grains Nobles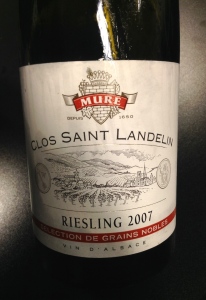 [Tasted during WSET Diploma – Unit 3 – Week 5: Alsace]
I'm sad I didn't have more time to spend just tasting minuscule sips of this wine, whose colour I haven't seen for a wine in a very long time, and the same colour you'd swear was more akin to sherry than a Riesling. Add a Sélection de Grains Nobles wine to the list of wines that are so rare, such that getting to taste one is simultaneously enough and not enough.
Fuck.
It was reminiscent to the first wine in our flight of three, in that there was a real evolved pomaceous fruit character, with bruised red apple and dried pear that met with dried peaches, some apricots, honey, spice, mushroom, and apple jam. This might sound identical to so many other kinds of aged sweet wine, say an aged sweet Chenin from the Loire Valley, but there's a huge emphasis on the bruised apple flavour, and interestingly enough, a lack of that oxidative nutty character you might find. A darker colour, too.
Perhaps it's because this wine still remains really fresh, especially on the palate, where acid is high but well-hidden like a stoner on Commercial Drive, and you can almost pick out the interaction between the brightness and the succulent apple fruit on the palate. It's almost like there's a hint of juicy brine character that keeps the flavours twinkling on the palate, like salted caramel ice cream or pride glitter you just can't get off yourself for some reason.
Spoiler alert: it's not cheap. But there's a holiday dinner party I have to help throw in a couple of weeks and I might just have to buy this and hope that it's a hit. Or I'll regret spending 90 dollars on other people and drink it from a straw out of a Slurpee cup – whichever.
Tasting Note:
Eyes: clear, med amber, legs
Nose: clean, pronounced intensity, developing, dried green fruit, ripe red apple, stone fruit, dried peaches, dried apricots, botrytis, spice, bruised apple, apple preserves, apple compote
Mouth: luscious, full body, high acid, low alcohol, long length, pronounced flavour intensity, bruised apple, dried apple, botrytis, spice, stone fruit, dried peaches, dried apricots, mushroom
All in all: Outstanding quality: there is a teasing balance between the intense and luscious apple marmalade flavours and the prickly acidity. The complex botrytis-kissed flavours linger wonderfully on the palate. Can drink now, but has potential for ageing.
Identity Guess: Premium Riesling SGN from Alsace Grand Cru AOP, France.
Is really: Premium Riesling SGN from Alsace Grand Cru AOP, France; 7 years old.
Producer: Domaine René Muré
Designation: "Clos Saint Landelin"; Sélection de Grains Nobles
Region: France
Sub-Region: Alsace
Variety: Riesling
ABV: 8.5%
Vintage: 2007
Tasted: November 17, 2014
Price: $90