On the list to retry: Zinck 2012 Muscat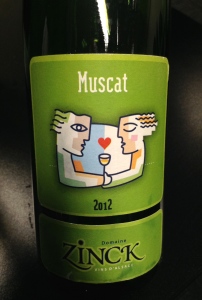 [Tasted during WSET Diploma – Unit 3 – Week 5: Alsace]
At this point in time we're halfway through the wines that we need to taste and we're being a bit rushed. It doesn't help that my stomach, for some reason, is angry with me. Ahh!
A grapey and floral aroma reminiscent of a subdued and more elegant Gewurztraminer is my benchmark for tasting Muscat blind, but burnt hair and matchsticks are my benchmarks for sulphites. By this point I was rushing and had too little wine in my glass before I could reassess, so retrying this wine is something I need to do. The general consensus was that there was some sulphitic character in the wine that needed to blow off.
I've tried a bottle of Muscat in the past couple of months, and I'm slowly wondering if I'm forming a false and too-idealistic image of dry Muscat inside of my head. This and the 2010 Domaine Zind-Humbrecht Herrenweg de Turkheim Muscat didn't seem as potently grapey as all the descriptions make them out to be. Tough years, maybe, but more likely the idea I've made in my head that I need to rework.
The winery definitely didn't ask me for permission to use a picture of me and my lover on the label, which was an unphotoshopped low-fi phone camera selfie, by the way. I'll let it slide because it's a good angle and it really brings out my seductive beige quadrilaterals.
Tasting Note:
Eyes: clear, pale lemon-green, legs
Nose: clean, med intensity, stone fruit, flowers, peach, orange blossom, mineral, grapey, sulphur
Mouth: dry, med- body, med- acid, med alcohol, med length, med intensity, mineral, stone fruit, peach, citrus, lemon, flowers
All in all: Good quality: a bit quiet and simple for a heady grape, along with flavours that don't exactly last, though balance finds itself in structure and there is some complexity. Will have to retry. Drink now: not suitable for ageing or further ageing.
Identity Guess: Mid-priced Muscat from Alsace AOP, France; 2 years old.
Is really: Mid-priced Muscat from Alsace AOP, France; 2 years old.
Producer: Zinck
Designation: N/A
Region: France
Sub-Region: Alsace
Variety: Muscat
ABV: 13%
Vintage: 2012
Tasted: November 17, 2014
Price: $22