Glinda the Good Witch: 2010 Domaine Zind-Humbrecht Herrenweg de Turkheim Muscat
Tasting Note:
Eyes: clear, pale lemon, legs
Nose: clean, med intensity, youthful, spice, ginger, citrus, stone fruit, ripe peach, hint mango, mineral, petrichor, floral, orange blossom, tea
Mouth: dry, med+ body, med+ to high acid, med+ flavour intensity, med+ alcohol, strong minerality, wet stones, petrichor, citrus, white peach, stone fruit, hint spritz
All in all: Good quality: the wine has fantastic structure for a Muscat, and a strong minerality carries on to a med+ finish. But both the nose and palate could benefit from more fruit intensity and concentration. Drink now, not suitable for ageing.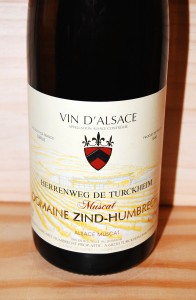 After much debate at the liquor store – which also made it probably look like I was suspicious – I finally came to the conclusion that this was a day I where the whole "should-I-spend-x-less-dollars-for-this-wine?" and "should-I-experiment-with-shitty-weird-grape-varieties?" cards were cards that deserved to be torn up and burnt, and so I knew that I had to beeline to exactly what I was craving. Plus I'm kind of annoyed and I want to douse my soul in good wine. I also didn't drink anything yesterday, so that's another excuse.
I want pure fruit framed with some sort of structure, and Alsace is usually good for providing that. Being the sunniest area of France, it's no surprise that grapes ripen easily but retain acidity from being in such a northern climate. Fruity but not flabby, flashy without being slutty, etc.
I open the bottle and it's not 100% what I'm expecting – the nose has a med+ intensity, but the fruit seems either faded or tight. It's hard to tell from a grape that's supposed to be drunk as soon as possible (i.e. within two years of the vintage for dry Alsatian Muscat) but is listed on the producer's website to be enjoyed from 2012-2022. It's dry but not oily like Gewurztraminer (a grape that its often compared to and sometimes confused with in blind tastings) and instead has a strong runway of savouriness that carries on to the finish. Seems to be an intended style according to the winery's tasting notes. They're right – it surely does finish more like a Riesling rather than Muscat, but I'm surprised considering the other Muscat I've had from them. According to the website – it seems like the wine from this particular area is done in a more elegant and spritzy style.
That being said, drink this at room temperature (as I'm doing now) if you want to emphasize varietal character. I'm enjoying it much more in this state.
It seems irritatingly uptight for a higher-priced Muscat and lacks the heady grapey quality that brings the grape to fame. Maybe it's too old. Maybe it's corked and I don't know it. All I know is that I wasn't transported to a field of ripe peaches, flowers, and unicorns when I stuck my nose into the glass. Like, it's maybe Glinda the Good Witch territory, but definitely not anything past that. It's good, but perhaps too stony and elegant for my deflated mood. You wouldn't choose salad for a Netflix night in your underwear.
Maybe I'm too dumb and don't know anything – that's always a possibility. Regardless, bottom's up.
Producer: Domaine Zind-Humbrecht
Designation: Herrenweg de Turkheim
Region: France
Sub-Region: Alsace
Variety: Muscat (75% Muscat Blanc à Petit Grains; 25% Muscat Ottonel)
ABV: 13.5%
Vintage: 2010
Tasted: August 20, 2014
Price: $30