2011 Domaine Zind Humbrecht Muscat
Tasting Note:
Eyes: clear, pale lemon, legs
Nose: clean, med+ intensity, youthful, orange blossom, spice, ginger, stone fruit, peach, citrus, cardamom, lychee, fig
Mouth: off-dry, med+ body, med- acid, med alcohol, med+ flavour intensity, savoury, med+ length, ripe peach, apricot, lychee, spice
All in all: Good quality: the wine has aromatic and concentrated fruit and a complex flavour profile, but lacks some structure. Drink now; not suitable for ageing.
Identity Guess: High-priced (Riesling/Pinot Gris/Muscat/Gewurztraminer/Chenin Blanc) from Alsace, France; 2 years old.
Is really: High-priced Muscat from Alsace, France; 2 years old.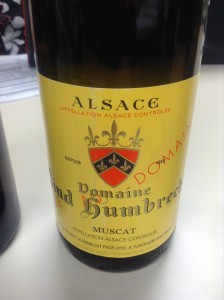 [Tasted during WSET Diploma class – Section 1 – Week 10]
I often get Gewurztraminer and Muscat mixed up. As soon as I took a sniff, it was perhaps a mistake to write "muscat? gew?" on my tasting notes before I was done with the entire grid. But it is tough – the pronounced stone fruit, tropical fruit, and spice flavours often allude to a small set of grapes with similar profiles – even the bit of Froot Loops-y cardamom I got on the nose was reminiscent of Viognier, but it turned out to be Muscat. It was the next wine that was Gewurztraminer, which in turn, I had guessed was Muscat.
Apparently this is a unique style of Muscat, since drier, more full styles are less common – so a guess of Gew was "more likely" – although the deeper colour of the next wine should've hinted to Gew.
Muscat is another grape with a reputation for sweeter wines, and, compared to the Riesling example, it's much more justified this time because it really is hard to find drier versions – but they exist. It already seems one note, but interestingly enough, there are sub-varieties of Muscat, all with slightly different profiles. I believe this was made of the Muscat Blanc à Petits Grains variety, which is considered the finest sub-variety of Muscat, but I also wouldn't be surprised if this was Muscat Ottonel, which is a lower acid, more pungent style of the grape, which finds itself at one of its homes in Alsace.
The wine itself was delicious. Lower-acid, overt stone and tropical fruits, but not totally veering into the perfumed floral character that some other grapes do. Not syrupy either, but there is some sort of structure, if barely. The complexity is definitely there. An interesting try for 30 dollars.
Producer: Domaine Zind Humbrecht
Designation: N/A
Region: France
Sub-Region: Alsace AOC
Variety: Muscat
ABV: 12.5%
Vintage: 2011
Tasted: June 12, 2013
Price: $30