Vanilla, but not in an oaky way: Hugel 2011 Pinot Blanc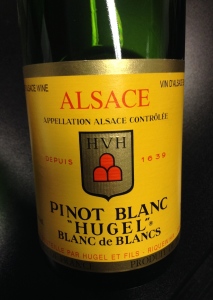 [Tasted during WSET Diploma – Unit 3 – Week 5: Alsace]
Pinot Blanc is one of the exceptions to Alsace, where the region itself is an exception to the non-varietally labelled wines in France. Unlike Alsace, the rest of French wines are typically labelled by their appellation rather than the grape – so unless there's an informative back label, the average consumer might get lost with regions that sound like they've come from a George R. R. Martin novel. It's a big conversation. Alsace, for the most part, dodges this.
Many (political) reasons led to this general rule, but then there's poor little Pinot Blanc, which may very well have some Auxerrois in its blend despite the fact that it's labelled "Pinot Blanc". I'm sure it's not a big deal and that it's probably very practical for whatever reason, but it's always bugged me since Pinot Blanc is such an underdog.
I've never been a huge fan of Pinot Blanc, though I've had some notable exceptions. In this wine, I can understand the grape's oft comparison to Chardonnay, where understated aromas meet a slightly creamy and textured (yet light) body. There's also a bit of flintiness that joins the rather simple aromas, and the palate manages to maintain structure while displaying the equally as simple flavours.
I don't know. It's well-done simple. It's a bit too blank for my tastes, but the quality is there.
Tasting Note:
Eyes: clear, pale lemon-green, legs
Nose: clean, med intensity, youthful, mineral, citrus, flint, citrus, lemon, white flower, white peach
Mouth: dry, med body, med+ acid, med alcohol, med- intensity, mineral, flint, citrus, lemon, white flowers, white peach, med finish
All in all: Good quality: the wine is rather subdued and simple without much intensity, but there is a great balance between the fresh acidity and the bit of that the wine shows, along with a creamy mouthfeel that adds texture. Drink now: not suitable for ageing or further ageing.
Identity Guess: Mid-priced Pinot Blanc from Alsace, France; 1 year old.
Is really: Mid-priced Pinot Blanc from Alsace, France; 3 years old.
Producer: Hugel
Designation: Blanc de Blancs
Region: France
Sub-Region: Alsace
Variety: Pinot Blanc/Auxerrois
ABV: 12.5%
Vintage: 2011
Tasted: November 17, 2014
Price: $24