2011 Max Müller I Sommeracher Katzenkopf Weissburgunder Spätlese Trocken Franken
Tasting Note:
Eyes: clear, med lemon, legs
Nose: clean, med intensity, youthful, floral, citrus, mineral, apple pear, stone fruit, nectarine, custard, yoghurt, baking spice
Mouth: dry, med body, med acid, med alcohol, med+ flavour intensity, med+ length, creamy, floral, stone fruit, peach, ripe nectarine, baked toasty quality, green fruits, pear
All in all: Very good quality: complex and concentrated with a relatively long length. A great expression of the variety. Drink now, but has potential for short-term ageing.
Identity guess: High-priced (Trebbiano/Pinot Blanc/Viognier) from the Northern Rhône; 2 years old.
Is really: TBA-priced Pinot Blanc from Germany; 2 years old.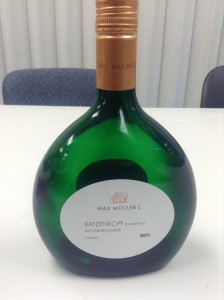 [Tasted during WSET Diploma class – Section 1 – Week 8]
A taste of this guy and I understood what Oz Clarke meant with his vivid description of Viognier:
"If you wanted serious, swooning wine, with texture as soft and thick as apricot juice, perfume as optimistic and uplifting as mayblossom, and a savoury sour creamy richness like a dollop of crème fraîche straight from the ladle of a smiling farmer's wife – in other words, a wine which just oozed sex and sensuality – Condrieu, from the Viognier grape, was it." – "Wine Grapes", by Oz Clarke
This is just one paragraph. Oz Clarke waxes poetic about how hot and bothered he gets by (good) Viognier, and so I hopped on that train and thought this was Viognier. A nose from what I thought was more citrus and stone fruit dominated was more green fruit-centric in the experienced mind of the instructor (although there was a agreed-upon and marked nectarine character), but I was correct in detecting a yoghurt-y baked custard sort of characteristic both on the nose and palate, stemming from the good ol' malolactic fermentation. I'm guessing that this is what Oz might be referring to with the whole crème fraîche thing. (Condrieu is still on the spit bucket list.)
That, and this isn't exactly what I think of when I think of Pinot Blanc. I finally understand the whole comparison to Chardonnay, but most Pinot Blancs I've had have been simple, fruity, lighter in body, and have never reached this complexity. Combined with the fact that "Pinot Blanc" from Alsace may actually be a blend of that and Auxerrois (and in some cases may be all Auxerrois and no Pinot Blanc at all, much like Trebbiano d'Abruzzo), and you have a sad and ignored little grape that gets beat up by all the other macho grapes after school.
The colour and ripeness makes sense to me, here, because Alsace (and I assume southwest Germany by extension, assuming no strong geographical difference) is generally a dry and sunny area. Sunny areas in southern Germany can lead to riper  and fuller-bodied styles of the variety. I recall week 2 – my embarrassing guess of Alsace Riesling as some oddly bright Chardonnay.
This was a fantastic and unique wine. Don't go chasing it down anytime soon, because the heartbreaking fact is that German Pinot Blancs are rare in this market (maybe one in the BCL), and the shape of the Bocksbeutel inconveniences both restaurants and storage units. That didn't stop Mateus, but this isn't Mateus. This is a unique wine with a label that's difficult to read despite its simplicity, and sadly enough, with the slow progression of wine culture in BC, we probably won't be seeing wines of this specific nature any time soon. Despite my prayers.
The instructor brought this over from Germany. Lucky jerk.
Producer: Max Müller I Sommeracher Katzenkopf
Designation: Spätlese Trocken
Region: Germany
Sub-Region: Franken
Variety: Weissburgunder (Pinot Blanc)
ABV: 13%
Vintage: 2011
Tasted: May 29, 2013
Price: $35