2010 Chapoutier Schieferkopf Lieu-Dit Fels Riesling
Tasting Note:
Eyes: clear, med+ lemon, legs
Nose: clean, med+ intensity, youthful, almond, butter, floral, green apple, citrus, stone fruit
Mouth: dry, high acid, med alcohol, med+ body, med+ flavour intensity, lemon, butter, oily, creamy, long finish, minerality, stone fruit
All in all: Very good quality: distinct and concentrated character on both the nose and palate. The acidity prevents the weighty character from being cloying, and there is a long length. The wine lacks a bit of complexity that prevents it from being outstanding. Can drink now, but has potential for ageing due to a firm structure and great intensity.
Identity guess: High-priced Australian Chardonnay; 2 years old.
Is really: Premium Alsatian Riesling; 3 years old.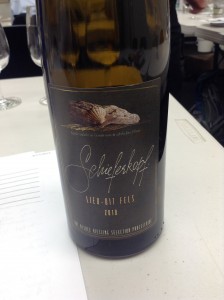 [Tasted during WSET Diploma class – Section 1 – Week 2]
Oh God. The first wine of the day and I was called upon to give my conclusion on the quality. Unlike being called for giving out an answer in some useless university class, it wasn't as bad as I thought – I'm more confident about giving conclusions than individual tasting note parameters. My apparent weaknesses lie in being a bit too vague and poetic with my language: I need to stick to using the objective column descriptors for intensity, and I need to stop saying "nice". Fuck.
I swore that this was some sort of weighty but lightly-oaked Chardonnay from God knows where. It just seemed so distinctive to me. On the nose and palate I got this interesting butter and nutty kernel character (perhaps I was painting myself into an alcoholic corner), but the high acid seemed to come out of nowhere. I knew that should've swayed my thoughts but it didn't. There was also a creamy lees-y texture with slight oxidation.
It's interesting because unsure guesses from the class were thrown all over the place: inexpensive Riesling (I originally scoffed at this but look how wrong I was!), Australian Viognier, Alsatian Pinot Gris, Sémillon, even an unsure guess of Chenin Blanc. The problem is we don't drink enough Alsatian wines. That's my problem, at least. My Alsatian Rieslings have been limited to sweet and expensive examples, or dry and much more austere. This style is new to me! I love it. If it could stop being 50 dollars that would be great.
Producer: Chapoutier
Designation: Schieferkopf Lieu-Dit Fels
Region: France
Sub-Region: Alsace AOC
Variety: Riesling
ABV: 13.5%
Vintage: 2010
Tasted: April 17, 2013
Price: $50