WSET Diploma – Section 1 – Week 2
First: yesterday, the books I ordered came in the mail! Happy birthday, me!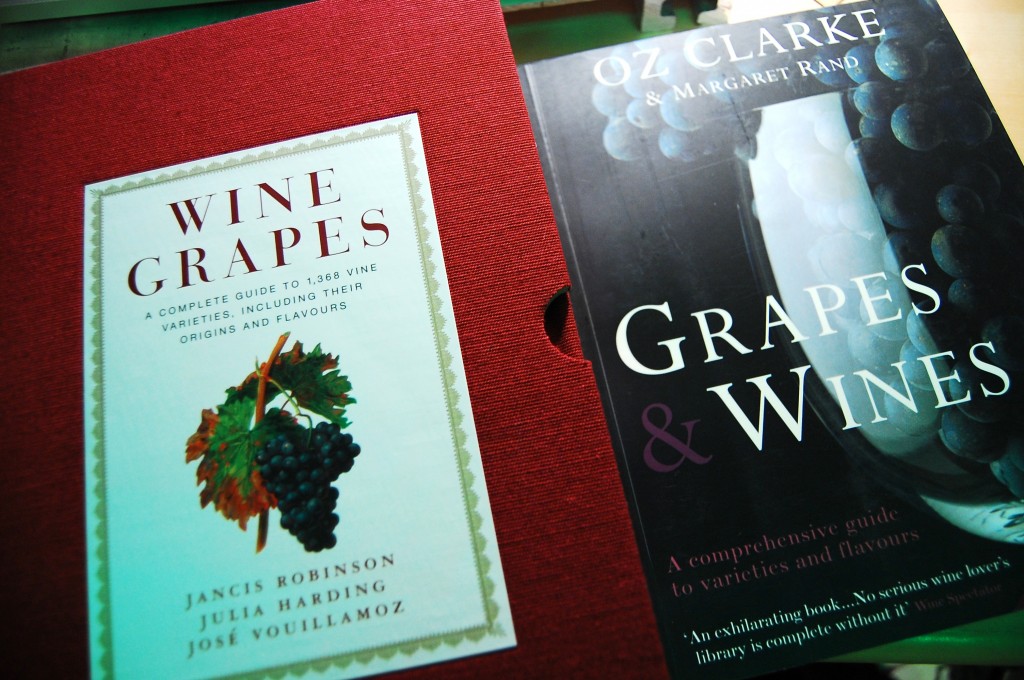 Really exciting, though. The super thick Wine Grapes is an exhaustive list of the main commercial grapes in the wine world, compiled by Jancis Robinson MW, Julia Harding MW, and José Vouillamoz. So, pretty much a Pokedex for grapes. There are only a handful of individuals in the world who have been born in a precise generation to be able to understand analogies that bridge wine grapes and Pokemon. Magikarp and Nebbiolo? Eevee and Loire Chenin Blanc?! The possibilities.
The latter book, Grapes & Wines by Oz Clarke and Margaret Rand, is a little bit friendlier in a sense that it reminds me of those small quasi-encyclopedias with pictures that I always used to read as a child. Fantastic, straightforward, and informative book; more than what I thought I would get.
I love wine geeks (like these authors) that seem less snobby than people make them out to be. God knows I would freak out and ask for a picture if I ever see one of these people in public. JANCIS, SIGN MY BOOK! I will yell, while running down the street with a 10-pound book only to realize that it's not Jancis, it's just a horrified woman who works at the café down the street.
So WSET Diploma class. Despite being the second week, today was the class we were supposed to have last week, since today's instructor was in Germany. Which according to him, was very German.
The class mainly involved an introduction to this section of the Diploma (i.e. Section 1 being Units 1 and 2), a revision of tasting technique with 2 whites and two reds, and a very brief discussion on the global market as it pertains to wines (mostly which we will have to research on our own).
It's a relief to know that my tasting partner for the day was as likeminded as I am, as we had almost identical notes for the first two wines, even though our identifications were completely off (a mere fraction of marks, anyways). We were a little bit more dissimilar in the tasting notes for the reds, but my individual identity guesses were closer than my previous.
It's also cool getting a feel of everyone's style of analysis in the class. The one student in the front who's had only ISG training as opposed to WSET training has different approaches but still manages to reach some conclusions that I might completely miss. The first wine, for example.
I feel weird because I'm having fun. I'm clearly not studying myself to the ground hard enough.
2010 Chapoutier Schieferkopf Lieu-Dit Fels Riesling
2011 Export Union GmbH Piesporter Treppchen Riesling
2008 Thelema Shiraz
2009 Cave de Tain "Les Hauts du Fiefs" Crozes-Hermitages