2009 Cave de Tain "Les Hauts du Fiefs" Crozes-Hermitages
Tasting Note:
Eyes: clear, deep purple, legs
Nose: clean, med intensity, developing, dark fruit, earth, black pepper, spice, bit of herbal
Mouth: dry, med+ acid, med+ tannin, med+ body, med- flavour intensity, med alcohol, spice, dark fruit, med+ finish
All in all: Very good quality: there's a high concentration of fruit along with a relatively long finish and a firm structure, but is quite tight with the fruit wrapped around by tannins. Can drink now, but has potential for ageing.
Identity guess: High-priced Syrah from Crozes-Hermitage; 2 years old.
Is really: High-priced Syrah from Crozes-Hermitage; 3 years old.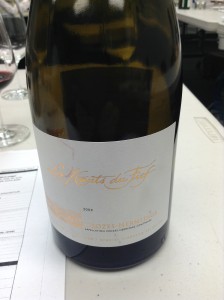 [Tasted during WSET Diploma class – Section 1 – Week 2]
That South Africa stink was replaced by more black pepper and more lush fruit in this wine. It wasn't until later that I picked up on the characteristic slight herbal note you can get out of some Rhône Syrah.
This guy was just so damn tight, and I'm glad I wasn't the only one who thought so.
Okay. Let's try that sentence again.
The intensity of the tannins almost overwhelmed the fruit, but the concentration was there. Initially I guessed a wine of good quality, but apparently most wines that are worthy of ageing will be of very good quality as a result. There are some exceptions: Condrieu, for example, isn't known for its ageing ability, but is still the queen of Viognier.
Guesses on this wine were a little bit spread. A few New World guesses were thrown around (Argentinian Syrah) along with guesses closer to mine (French Syrah), but the higher acidity and firm structure apparently root it to the Old World.
I feel like my identity guess was pure luck: I pegged a Syrah, and I decided to guess that it hailed from an area where prices are more modest. Crozes-Hermitages was my first guess, and Saint Joseph my second. Little did I know it was one of those moments where I should have risked my guess out loud and burst out in a Superman stance complete with spotlight when the answer was revealed.
People would have stained me with wine, so that's okay.
Producer: Cave de Tain
Designation: Les Hauts du Fiefs
Region: France
Sub-Region: Crozes-Hermitages AOC, Rhône
Variety: Syrah
ABV: 13%
Vintage: 2009
Tasted: April 17, 2013
Price: $38