2008 Thelema Shiraz
Tasting Note:
Eyes: clear, deep ruby, legs
Nose: clean, med+ intensity, developing, cherry, dark fruit, barnyard, spice, ash, meat, black pepper, baked fruit, medicinal
Mouth: dry, med acid, coarse med tannins, med+ alcohol, med+ body, med+ intensity, earth, red fruit, black fruit, med+ finish
All in all: Very good quality: a concentrated med+ intensity on both the nose and palate contributes to an intense wine. Along with a relatively long finish, all of the components are in balance, except for the alcohol which seems a little bit hot. Drink now: not suitable for ageing. There is no potential for the wine to further harmonize its components.
Identity guess: High-priced Pinotage from South Africa; 3 years old.
Is really: High-priced Shiraz from South Africa; 5 years old.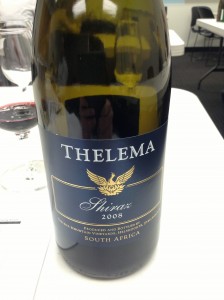 [Tasted during WSET Diploma class – Section 1 – Week 2]
My first whiff and I muttered "woah", which prompted my classmate to throw me a "I know right?" look.
A delicious, meaty, nose. I first noticed this slight barnyard character which I further detected as this ashy charred meat aroma, and I instantly thought of South African Pinotage. Not exactly, but close enough.
Everyone in the class thought this was either very good or outstanding quality, and for justified reason. It was just so complex. There are a lot of things going in this wine, aroma-wise, and there's a concentrated character to boot. A complete steal for $29 dollars. It's moments like these where you know the subjectivity card is no use. It might not be your taste, but this is a damn good wine.
Interestingly enough I've tried this wine in the 2007 vintage around 1.5 years ago in my WSET Intermediate class, and I still thought it was the bomb – might have been the favourite of the night, and I made an embarrassing analogy with someone I had a crush on. I'm great.
The tasting notes are much simpler, but here they are, anyways:
Eyes: clear, deep ruby, almost garnet
Nose: clean, ripe black fruit, medium intensity, peppery, earthy, prune
Mouth: peppery, dry, black fruit, med acidity, light to med tannin, med+ length, med bodied, black fruit
According to my notes it also used to be 40 dollars.
Producer: Thelema
Designation: N/A
Region: South Africa
Sub-Region: Stellenbosch WO
Variety: Shiraz
ABV: 14.5%
Vintage: 2008
Tasted: April 17, 2013
Price: $29