2011 Export Union GmbH Piesporter Treppchen Riesling
Tasting Note:
Eyes: clear, pale lemon-green, legs
Nose: clean, med- intensity, youthful, apple, light floral, peach, slight ginger spice
Mouth: off-dry (I still say medium-dry), med acid, low alcohol, med- body, med- flavour intensity, peach, lemon, med- finish, floral
All in all: Acceptable quality: the wine has enough acid to balance out the sweetness, but doesn't have enough fruit to balance out either. The fruit that is there is merely simple. The length is rather short, and the wine seems relatively thin with a slightly bitter finish.
Identity Guess: Mid-priced Californian Moscato; 2 years old.
Is really: Inexpensive German Riesling; 2 years old.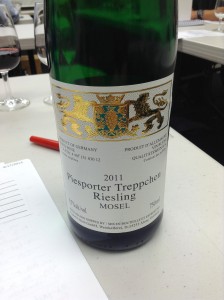 [Tasted during WSET Diploma class – Section 1 – Week 2]
There was a bit of this spicy ginger-y burnt hair thing that I got off the nose which I remember smelling in some Moscato (who knows, maybe that's the burnt match aroma of too much sulfites), so that's where it took me. Although not having the fizz that most Italian Moscato are known to have, there was a bit of apparent spritz that everyone had in their glass, and so I thought perhaps this was a still version from California.
Originally I thought this was good quality as opposed to acceptable, but perhaps I'm just too nice. This wine was a bit simple, but I didn't find it as offensive as the final notes make it seem. It's like one of those wines you want to share with your non-wine friends because it's inexpensive and inoffensive enough.
Riesling, especially German Riesling, is totally unpopular in the current BC market. I have a feeling that people maybe think Riesling is all sugar water. My solution? Introduce this to the lower age group. At least they'll be drinking wine.
Producer: Export Union
Designation: GmbH Piesporter Treppchen
Region: Germany
Sub-Region: Mosel QbA
Variety: Riesling
ABV: 9.5%
Vintage: 2011
Tasted: April 17, 2013
Price: $14