"Chelsea Dagger" – The Fratellis: Trimbach 2012 Riesling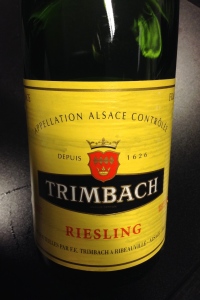 [Tasted during WSET Diploma – Unit 3 – Week 5: Alsace]
Continuing on our speed tasting train. This is the brightest wine of our flight of three, and also the palest. Our flight of three was obviously chosen to display three different styles or quality levels of Riesling (the Alsatian grape we hadn't tried yet in that session), the one previous to this being a Grand Cru Alsatian Riesling, this one being one at the regular Alsace AOP level, and the third being a Grand Cru Sélection de Grains Nobles.
This is a great example of its style, where bright Alsatian Riesling is mouth-commanding and almost abrasive, reminding me of a young and irritatingly chipper business-forward politician or Daenerys Targaryen. It's a citrussy knife not without the petrol characteristics that bring the grape some of its fame and pleasantly caustic character.
High acid and a lighter body on the palate, and granny smith is holding her apples in one hand and a flinty sword in the other.
Tasting Note:
Eyes: clear, pale lemon-green, legs
Nose: clean, youthful, med+ intensity, citrus, lemon, lime, flint, petrol, white peach, green apple
Mouth: dry, med- body, high acid, med- alcohol, med+ intensity, green fruit, granny smith apple, flint, mineral, citrus, lemon, lime med length
All in all: Good quality: the wine is bright and intense, with piercing green apple flavours with petrol. A longer length and more complexity (perhaps from age) would propel the wine into a higher quality designation. Can drink now, but has potential for short-term ageing.
Identity Guess: Mid-priced Riesling from Alsace AOP, France; 2 years old.
Is really: High-priced Riesling from Alsace AOP, France; 2 years old.
Producer: Trimbach
Designation: N/A
Region: France
Sub-Region: Alsace
Variety: Riesling
ABV: 12.5%
Vintage: 2012
Tasted: November 17, 2014
Price: $29