2010 Marcel Deiss Riesling
Tasting Note:
Eyes: clear, med lemon, legs
Nose: clean, med+ intensity, youthful, honey, mineral, lemon, lime, floral, "butter"/musk/rubber, green apple
Mouth: dry, med bodied, high acid, med alcohol, med+ flavour intensity, long finish, mineral, green apple, hint of honey, lemon, lime, zest
All in all: Very good quality: along with a lengthy finish, an intense and concentrated nose and palate are further strengthened by a balanced and bright acidic structure, allowing this wine to age. As a result, though, this wine isn't as complex as it can be in its years to come. Can drink now, but has potential for ageing.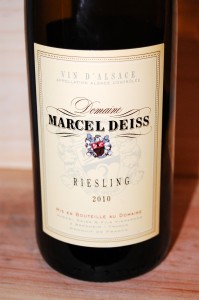 I've officially worked at this wine job for a year! This wine was one for celebrating, plus served as a lifting brightness for one of those weeks that wasn't so bad in theory but was shitty anyways. Sometimes you can't explain why it brings you down, and sometimes you can't explain why good wine can bring you back up.
Plus, after failing at identifying an Alsatian Riesling in last week's WSET Diploma class, I couldn't help but try another one. Too intriguing to pass up.
Without revealing Game of Thrones spoilers – where Cersei Lannister is dry Vouvray, this wine is like Daenerys Targaryen, which is fitting as I catch up on the latest episode of this season: nervy and unsure in youth, with intensity and an acidic backbone – great potential strength and opulence with age.
As this wine opened up at room temperature I got similar "buttery" or "musky" notes (almost reminding me of a still Cava or vague Chardonnay) that I got in another 2010 Alsatian Riesling I tried earlier this week. I put these terms in quotation marks because those words don't seem very Riesling-typical to me – after much mulling and smelling I'm deciding to use the descriptors of "honey" and "musk", and even so far as to call it slightly nutty, but not in an oxidized sense. it's a very subtle combination of aromas, and it's even akin to a smell of caramelized sugar and Granny Smith apples. It's almost like smelling a cold and sugarless apple pie.
I find it interesting that I can spend time analyzing and swirling this wine, yet I can also understand how someone else can think this tastes like sour apple juice. Even more, I think I enjoy wines with a balanced acidic backbone sometimes more so than their aged counterparts, which I can find often too mellow and nutty. Perhaps I'm just drinking the wrong vintages of things.
Oh well – only one way to find out, right?! *glug*
Producer: Marcel Deiss
Designation: N/A
Region: France
Sub-Region: Alsace AOC
Variety: Riesling
ABV: 13%
Vintage: 2010
Tasted: April 21, 2013
Price: $44