Rock out with your Hawk out
March 23, 2015
(Because, like, Alsace and rocks. And Hawksworth.)
Alsace as a person: some sort of plainly elegant freshly-shaven man – or a woman clad in some sort of colour-blocked dress – maybe something in-between? Possibly something cleanly cut yet bright that evokes images of Twiggy from the 60s, and maybe something equally as razor-sharp like a Polo and slicked-back hair with nary a thread out of place. Or like a United Colors of Benetton advertisement that shows five outfits that would all look disproportionately gross on me. (Truthfully, I'm an American Apparel medium and a Gap extra small, but I'm pretty sure my thighs set off fire alarms.) No oak, no malolactic, all vivid.
The brightness is no argument, because Alsace is literally the poster child-region for the dry and sunny climate that's mentioned in every first paragraph that talks about the region. Classifications might seem just as cleanly cut, with general separations classifying Alsace as simply the Haut-Rhin and the Bas-Rhin, along with as many appellations as there are blind mice. A bit deceptive, evident from the 51 Grand Cru vineyards with intricate names and a large number of soil permutations, each creating different wines. The cheerful region isn't without its controversies, but that's basically the entire plot of Desperate Housewives, anyway. (For the record, Bree = Riesling, Lynette = Pinot Gris, Gewurztraminer = Gaby, Susan = Muscat. Argue with me.)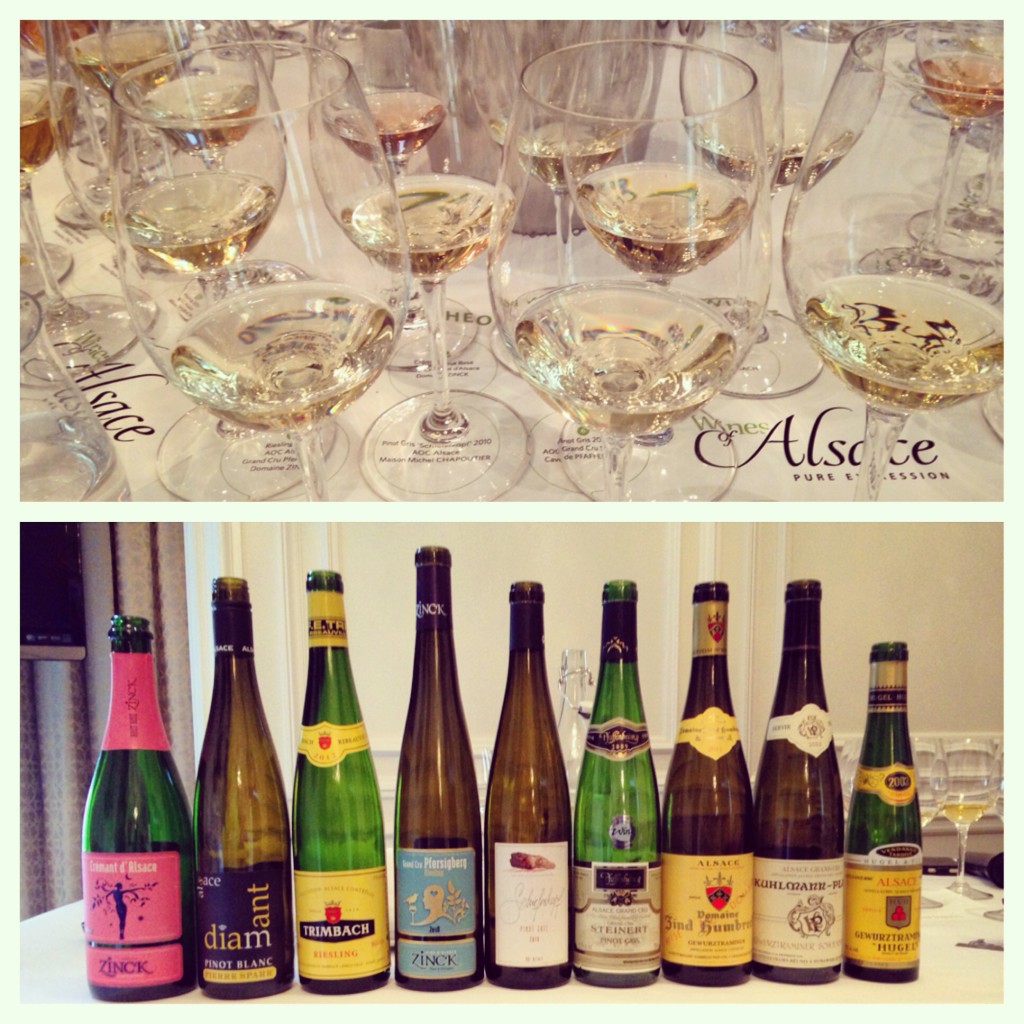 Lunch and tasting is at Hawksworth and hosted by The Wine Umbrella (thanks!). Super cool! Wonderfully lavish, yet surprisingly relaxed. Thierry Fritsch is the main man for the sesh, who's essentially an Alsace expert that works at the CIVA – the Conseil Interprofessionnel des Vins d'Alsace.
Food. Glorious food. There's no undouchey way of describing what we food we enjoyed as pairings for our wines, but: we started with a tart flambée with bacon, sweet onion, and arugula to pair with our first mini flight.
We begin with a welcoming flute of Domaine Zinck Crémant Brut Rosé. The only Pinot Noir in our flight of nine: lots of gentle red fruits with a notably creamy mouthfeel and round acid. Savoury ending, and a satisfying amount of autolytic flavour.  Swoon – the pink was as good as, if not better in recent memory, than its white. The Pierre Sparr 2011 "Diamant" Pinot Blanc unexpectedly charmed me for longer than I thought it would. Neutral and sort of just a bit of mineral and red apple on the palate, but round and pure on the palate with creamy nectarine and mineral. One of the wines that doesn't have the confetti explosion of other Alsatian varieties, but it definitely has the clean brightness, with texture keeping it attractive. A liquid CliffNotes to Alsace, if you will.
I've had the Trimbach 2012 Riesling before and I'm not questioning the fact that I find it much more charming this time around because of this room that makes me feel like I'm in a classy Beyoncé music video, but there's mostly flowers, green apple, lemons, and bits of petrol and something almond-ish. Definitely a pleasant hint of earthiness on the finish which grounds the zippy nature. In contrast, the Zinck 2010 Grand Cru Pfersigberg Riesling has much more of a floral opulence with some mushroom, peach jelly, and a hint of oxidized stone fruit. Thierry says it's too young. I say pshh.
We try a pair of Pinot Gris next, to pair with a colourful fingerling salad with some hidden confit wing, broccoli purée, and a slow-cooked breast of chicken (is breast of chicken different from chicken breast?) which vaguely looks like the cliff where Rafiki presents Simba to the crowd. (I'm so not worthy of this meal, but I say silent praises to whatever god is listening, anyways.)
The Chapoutier 2010 "Schieferkopf" Pinot Gris is a bit closed, but has aromas and flavours of lemon zest, peach pith, and hints of oxidized pear and grapefruit. There's a bit of earthiness, too ("moss") – but the Pfaffenheim 2009 Grand Cru Steinert Pinot Gris reveals a much more open and sultry version of the grape, with lots of wool, undergrowth, intense mushroom, ginger, and pineapple. I would easily mistaken this for a plush Loire Chenin, and I text my colleague who's sitting at another table. (I definitely have mistaken a wine like this for Loire Chenin before.) Defs the favourite in the flight.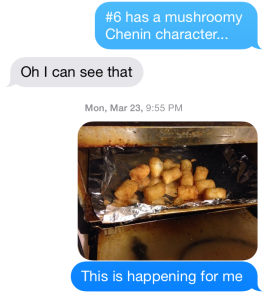 Three Gewurztraminers were next, the first two being paired with Morbier over brioche with some apricot purée and spiced almond, while the last was with some vanilla crème, chamomile, poached rhubarb, and some strawberries. Are you ever in a situation where you want to just put the whole dessert in your face but then try to parallel yourself with everyone's timing? I did that for like 45 tortuous seconds and then just followed my heart('s mouth).
I'm quite familiar with the Zind-Humbrecht 2012 Gewurztraminer because it's had a repeat appearance as a benchmark during wine studies over the past few years, being a good example of what it is. Supremely perfumed and on the drier side (for Gew), with tumeric, cardamom, bacon, tropical fruit, wheat beer, and a nice amount of acid to balance out the full-bodied florals. The next wine we try is the Kuhlmann-Platz 2012 Grand Cru Schoenenbourg Gewurztraminer which is a bit focussed on the nose, with some purity of mango, flowers, mineral, and an interesting musky but pleasant blend of cologne and body odour (in a good way, I promise). On the palate, there's more sweetness but also more reluctance, and it's almost in slow motion as you feel the texture and flavours unfurl on the palate. I made my dad try their entry level wine once – he caught rose petals from the first sniff. #proud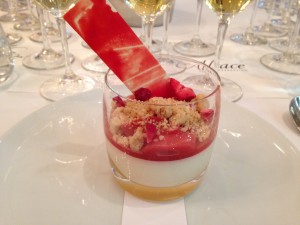 We pair the dessert with the Hugel 2003 Gewurztraminer Vendange Tardive, which is essentially late harvest. A bit of an awkward year in general for Alsace, but there's a moderately intense nose with lots of orange zest and spice, baked grapefruit, and bits of lychee and potpourri. Sweet on the palate with similar honied and spiced flavours. It's more candied than botrytized, but it's delicious. There was a bit of a 30-second debate on whether or not the dessert worked with the wine. I think it did, but in this moment you could slap me in the face and I'd raise a sign that said "10".
The presentation wasn't without the science of the soil formations of Alsace as well as grape ripening charts, which were both happily expected. I translated these into flash cards as soon as I got home, of course, because we all know studying for the WSET Diploma is just going to give me nightmares over the next couple of months, but awesome events like these remind me why I got into wine in the first place.
I walk over to Chapters in a noontide daze. I quickly glance at the drinks section after having some inspiration, but I eventually convince myself to go home and nap. Probably best for my wallet to dream about Alsace rather than buy another book.