2014 Vancouver International Wine Festival – Wine Tour de France Seminar
This year's wine fest kicked off with me doing the blind tasting challenge on the Wednesday – the rest of my day consisted of lunch with colleagues, errands involving heavy lifting, and then seeing the new Lego movie. I didn't get as much sleep as I wanted, which is an obvious call for trouble: the next day started off with a France-themed tasting at 9:30AM; the big, busy, and irritating trade tasting at 2:30PM; and an exciting Bourgogne-themed tasting at 5PM. A day full of constant mouth stimuli.
Since this was one of the trade tastings (opposed to a consumer one), there were lots of familiar faces. But I shamelessly admit that any human interaction is personally difficult and gruelling before 11AM (or maybe I'm just a naturally horrible human being), and so I sat down on one of the seats, smiled at the 12 glasses in front of me, got my notebook ready, and did my best not to spill anything.
The theme was France, and so each wine basically served to represent a different subregion. Then there was a bit of discussion here and there, some statistics by moderator Barbara Philip MW (mostly on growth or decline in sales), and obviously, some excited sipping. Each wine had a different representative – whether it be some kind of manager that oversaw the wine (as part of their portfolio as an agency or winery), winemaker, or some other important position that warranted a special seat overlooking the crowd.
The 12 wines in the flight:
NV Taittinger Prelude Grand Cru
2010 Domaine Zinck Gewurztraminer Eichberg
2012 Domaine Joseph Mellot "La Chatellenie" Sancerre
2011 Georges Duboeuf "Château des Capitans" Juliénas
2011 Jean-Claude Boisset Chambolle-Musigny
2005 Château Clerc-Milon
2012 Château Gassier L'Amphore de Provence Rosé
2011 M. Chapoutier Chanté Alouette Hermitage
2010 Delàs Frères "Les Launes" Crozes-Hermitage
2011 Gérard Bertrand "Château l'Hospitalet" La Clape
NV Château de Jau Muscat de Rivesaltes
2007 Brumont Montus Madiran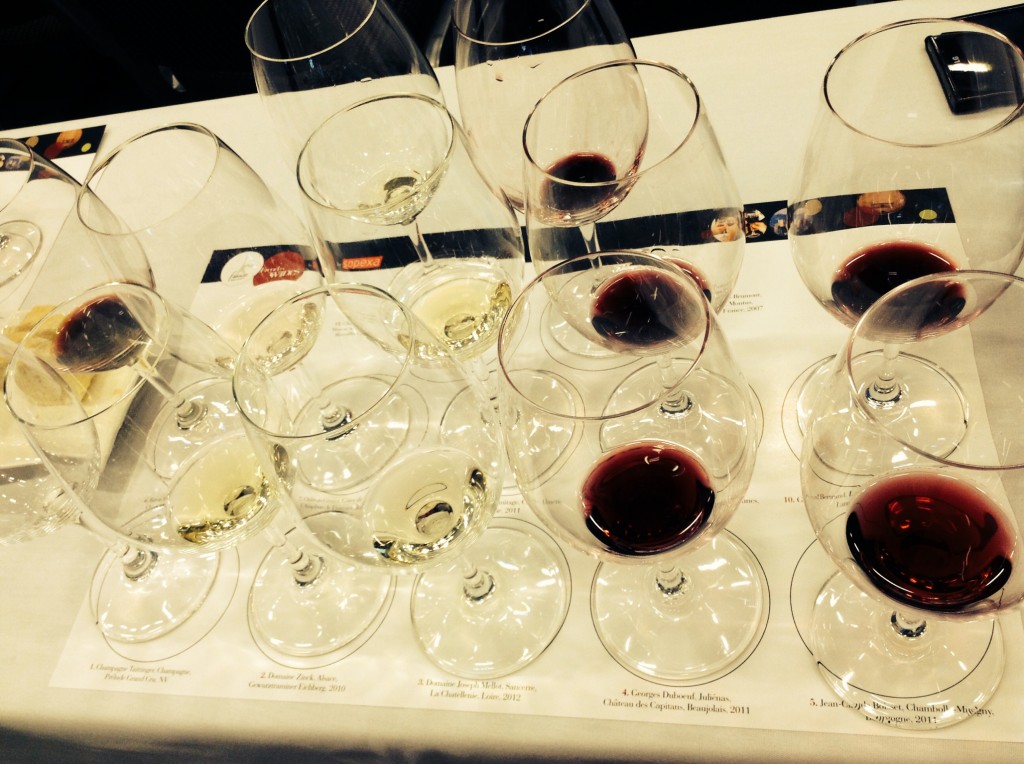 The first wine in the flight was the NV Taittinger Prelude Grand Cru, presented by their export manager, Clovis Taittinger. Some of my colleagues had him as a presenter in other seminars and we all agreed that he was a personable, self-effacing, and humble sort of dude. I'm pretty sure my friend fell in love with him for some duration of time, and then I wondered what weddings are like for people who owned Champagne houses. I'm sure it's something like a fairy tale but with loads more alcohol.
My research correlates to what Clovis says about Taittinger: they produce wines of elegance and ease rather than heavier-handed complexity. The wine was a 50/50 blend of Chardonnay and Pinot. There was indeed an elegant and creamy character to the wine, and a lively pomaceous fruit-flavoured mouthfeel intertwined with hints of slightly toasted white bread.
Clovis himself says he doesn't believe in the zéro dosage trend. He predicts that "sweeter" Champagnes will eventually come back in style.
Alsace was represented in liquid form by the 2010 Domaine Zinck Gewurztraminer Eichberg. Though there was single digit growth in the past year for the region, a point was brought up: perhaps Alsace doesn't see as much local popularity because BC grows similar grapes and the average local consumer seems to promote the BC region, but Philippe Zinck has a more optimistic view and says that the grape similarities may very well aid Alsace popularity.
The wine's stone fruit and tropical suggestions brought the image of a tropical surf wave, with an equivalently-heavy texture and the relaxed precision of a surfer. Off-dryness was well-balanced with acid. There was a small discussion on the ageing potential of Gewurztraminer, and Philippe Zinck had an ideal age of 5 years for some high-quality wines of terroir.
By the third wine (2012 Domaine Joseph Mellot "La Chatellenie" Sancerre), I'm wondering if anyone in the flight of twelve wine representatives doesn't have a French accent. Alas. Olivier Rivain talks about 2012 being a good year for the Loire, despite lower yields for most of Europe. Some colleagues had the same wine in a tasting the previous day and absolutely raved about it being their favourite wine of their seminar – there were aromas and flavours of mineral, green beans, gooseberries, citrus, and a hint of tropical fruit. Balanced acidity, restrained intensity on the palate, and quite mineral-driven. Looking forward to spring.
From the Loire Valley, we moved onto the region that everyone loves to discuss, because the underdog-lovers champion the region while the elite charlatans dismiss its wines. Laurent Gamonet, brand ambaassador, was the representative here. The 2011 Georges Duboeuf "Château des Capitans" Juliénas had flavours of spice, dried red fruit, earth, a hint of dark fruits, and a generous amount of well-integrated tannin. We were reminded that more "serious" Beaujolais can have more tannin than we expect, and that some aged examples (especially Moulin-à-Vent) can be confused with aged Burgundy. (As I would be able to discover later that evening.)
And it was this moment in time that I unintentionally chain-clinked five glasses in a row like a row of dominoes. So noisy that an agent in the row in front of me looked back just to see what the commotion was about. Oh hey.
The next region was Bourgogne. The first line I have for the 2011 Jean-Claude Boisset Chambolle-Musigny is "holy fucking delicious nose". The principal for this wine was Hugues Witz, but I think I began to drift off. Perhaps my brain was short-circuiting, but I think the nose had a hint of brettanomyces and a bright nose of red fruit – so it almost smelt like a lambic, which was confirmed on the palate. Less intense on the palate but still surely elegant.
The 2005 Château Clerc-Milon (and Michel Couttolenc) was the representative wine for Bordeaux, and the wine I looked forward to trying the most since I've never had a classified left-bank Bordeaux – to my memory, anyways. Deep garnet; 16-18 months in French oak. A bit muted on the nose, but concentrated flavours of cassis, leather, and a distinct note of liquorice. Nervy high acid with a med+ body and quite a bit of slightly coarse tannin – seems pleasurably typical for the burly commune of Pauillac. The wine finishes with a meaty savouriness. Michel said something about Carmenère but I don't remember what.
And so we arrived at a nice little refresher. The 2012 Château Gassier L'Amphore de Provence Rosé was poured as we were tasting one or two previous wines beforehand just to preserve a bit of cool temperature. I believe that the principal for this wine was Marc St.-Amour, who for some reason I noted as having less of a French accent. The things I take notes on, folks.
The wine was a pale orange with a delicately savoury and slightly herbal nose. High acid. Delicate with a medium body – rosés like this are examples of intensity in delicacy. Mineral, citrus, savoury finish. Apparently made from Grenache, Cinsault, and Syrah. Once again, I ache for the spring and summer.
My personal star in the flight. I've never had a white Hermitage – let alone many Rhône whites that aren't dominated by neutral background singers like Grenache blanc. But here we have the 2011 M. Chapoutier Chanté Alouette Hermitage, represented by Michel Chapoutier himself. 100% Marsanne, and everything I expected Tahbilk's Marsanne (from Australia) to be but never got. A Chardonnay-like fatness with dried apricots and butter. Cream, oak, vanilla, and stone fruits on the palate. Undeniably full-bodied, medium acid, and a hint of bitterness on the end.
I could've done without Chapoutier's awkward indignation at having his white served after some reds along with his wine not being served at his ideal temperature.
I was extremely pleased with the 2010 Delàs Frères "Les Launes" Crozes-Hermitage (presented by Hervé Robert?) – the wine was a deep dull ruby and expressed flavours of black pepper, black fruit, and black olive. Never have I ever recalled being able to pinpoint this "garrigue" aroma in wine that everybody talks about, but I immediately knew that's what I was smelling – a definite dried herbal and spice brush. Hervé also described an aroma of aspirin, which is apparently a typical thing with Syrah in from this area and this stage. And hopefully not a memory prompt of bad hangover days.
Med+ body, tangy blackberry fruit, high acid. Med+ to high well-woven tannin and mouthwateringly savoury. 30% aged in oak.
So we moved on to the 2011 Gérard Bertrand "Château l'Hospitalet" La Clape as an ode to the Languedoc, which seems to be the not-so-secret-land of good French value. I'm sad that I didn't note who represented the wine (or was it Gérard Bertrand himself?) because I noted that he was a jovial and positive person who told stories about Gérard Bertrand (or perhaps a Bertrand Sr.?) being a bit of a player is his youth. But again with the 10AM thing.
The wine was an inky dark ruby with an interesting blend of fresh dark and red fruit; dried dark fruit; and dried herbs. On the palate: silky, med+ to full-bodied, med+ to high tannins, black fruit, earth, liquorice, pepper, and a medium acid that bordered onto med+. Yummy and intense, and yet another sweet deal at $27.
I will never get over how much "La Clape" sounds like fancy gonorrhoea. Oh well!
The NV Château de Jau Muscat de Rivesaltes from Roussillon was interesting, and was introduced by Tom Warner – the only Englishman on the panel. The aromas on this were weirdly difficult to describe because they were so uniquely niched to the point where the wine blasphemously reminded me of white port on the nose: this sort of ripe sweet citrus character, mineral, hints of floral, and a blast of honey. The palate had mirroring sweet peaches & cream flavours on the palate along with, again, honey. I noted that the finish reminded me of pisco, with floral and slightly tropical character. 16% ABV, and something like over 100 g/L of sugar, if I heard correctly. Med+ body, medium acid.
The last wine in the flight was the 2007 Brumont Montus Madiran, represented by Vincent Thébaud, the export manager for Brumont. I for some reason wrote down that he was a "lovely fellow". I don't remember why. Oh well!
The wine is 80% Tannat blended with 20% Cabernet Sauvignon. It's a leather-clad muscular motorcycle man in a glass, with aromas of black fruit, savoury leather, hints of pyrazine, and hints of red fruit. Unmistakably full-bodied on the palate and structured high acid and tannin. Hints to savoury spice and leather flavours along with bits of fruit. But the wine is still tight and young so I'm excited what age will reveal. Vincent ended the tasting with words of vitality: "drink Tannat, live longer." Huzzah!
I enjoyed the tasting with the two flights of personalities. But my pre-noon palate cried for something that wasn't alcoholic or tannic. Thusly I went to go have coffee with a friend followed by a big lunch just so the big trade tasting and Burgundy tasting wouldn't leave me dying for a beer.