I suck at wine: 2014 VIWF Blind Tasting Challenge
My 2014 Vancouver International Wine Festival activities begun on Wednesday! Insert majestic trumpet sounds here.
I was really scared for the Blind Tasting Challenge (at the Pacific Culinary Institute of Arts) on said morning . This mostly meant barely being able to keep my breakfast in my stomach, listening to Glee's rendition of "Don't Rain on My Parade" on repeat for high energy (do you hate me yet?), and then thinking that coffee was a bad idea. A classmate saw me looking at the water as I was listening to music and taking refreshing winter breaths of Granville Island air – she was just as nervous as I, but another classmate told us we were more jittery and nervous than we needed to be. Which we were. Alas.
Those who signed up as consumers and as part of the culinary trade were placed in the larger set of rooms overlooking the water. The rest of us who signed up as part of the wine trade (maybe around fifteen of us) were led into one of the building's winding trails that was confusing to the point where I was too afraid to go to the bathroom before the exam in fear that I would get lost. Eventually we reached a mini classroom that mirrored a white-tiled kitchen.
There were 5 whites and 2 reds in front of us. Each wine had a set of questions – perhaps asking about the grape, the region, the method of production, the vintage, or sometimes a question that asked about regions that made similar wines, or the winemaker's production techniques, and so on. Simpler than I had thought, but simultaneously more difficult than I thought.
Soon enough, we were told to begin. We weren't allowed to take notes out of the exam room, so here are my mental notes on the flight of 7.
The first wine was a pale lemon colour. Not super aromatic but not quiet. Generally high in acid with a light body and lower alcohol. Moderately complex, with a bit of a noted spritz on the palate. Fresh. I thought the bit of spritz could have been attributed to carbon dioxide sparging, or perhaps injected for mere freshness (the Zanatta Damasco from Vancouver Island comes to mind). A hint of sea spray almost made me venture a guess of Albariño, but I went somewhere else. Muscadet seemed to also fit the bill.
My guess: Muscadet from the Nantais, Loire Valley, France.
Was really: 2012 Aveleda Fonte Vinho Verde.
Sigh. It's one of those moments where you really need to consider all the possibilities – the slight spritz of the wine indeed made absolute sense here – but I've had like one or two Vinho Verdes in my lifetime, so I don't feel too bad about screwing this one up. Because It's really not my style to go and buy a wine that's much lower in alcohol – but considering my sad life choices in Muscadet-guessing, maybe I should.
The calmed classmate was one of the few to nail this one on the head. One down, six more to go (and probably get wrong).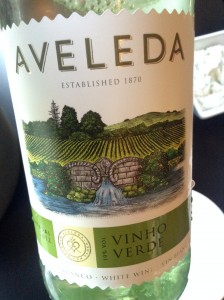 The second wine was deeper in colour and the heavy and seductive nose immediately had me following a Viognier or Rhônian narrative. But I immediately caught myself since I commonly make that mistake. What I thought were ripe stone fruit aromas were closer to juicy apple notes with hints of ripe nectarines. The pure flavours, solid body, and present acidity reminded me of the cool yet sunny region of Alsace – and the first question for this wine asked to name the two grapes in the purported blend. And so I thought this was a beautiful Pinot Blanc and Auxerrois blend from Alsace, because I couldn't think of any other two-grape blend.
My guess: Pinot Blanc and Auxerrois blend from Alsace, France.
Was really: 2012 Schloss Johannisberg Riesling Gelback from Rheingau, Germany.
It turns out that whoever wrote the test effed up royally, because this ended up being Rheingau Riesling (i.e. not a blend like the question asked). Some test-takers weren't as naive as I was, and adamantly guessed Riesling by its lonesome ("this was definitely Riesling"), immediately making me question life. Some others gambled a ballsy guess of a Riesling and Gewurztraminer blend. I am such a chump, but at least Alsace is near the Rheingau. Sort of. Zero for two.
("Feinherb" on the label is an unofficial indication of off-dryness, but I thought this was dry when we tasted it?!)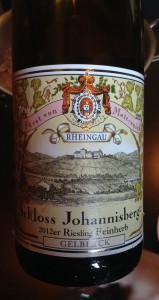 The third wine was oaked. Definite oak – no "buts", no exceptions. Difficult to pick out much else through the smoky bombardment – so my mind went right to Californian Chardonnay (it had to be!) but the wine wasn't as buttery as I expected. In fact, it hardly had any of the buttery characteristics on the nose or palate than I would really expect, but perhaps I was being too optimistic in thinking that this was an intended stylistic quirk by the winemaker, like that one brobot from UBC who decided to bark like a dog for the entire duration of a bus ride from the university.
My guess: Oaked Chardonnay from Sonoma, California.
Was really: 2012 Nederburg "The Young Airhawk" Sauvignon Blanc from South Africa.
Well, fuck. Thanks a lot, oak.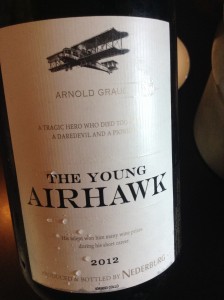 The fourth wine was also pale lemon, with vague scents of ripe pomaceous fruit, white flowers, and minerals. Medium acid, medium body, dry. Middle of the road. If that's not a scream for Pinot Grigio, then I don't know what is – I even convinced myself that the wine had a bit of a peachy tinge to it (even more of a case for the grape). There was also a question that asked about a(nother) Old World region that makes wine from the same grape. Easy. Alsatian Pinot Gris.
Within the last few minutes of the exam I scribbled out "Italy" and put "BC" because of that oddly reminiscent vague smattering of happy green fruit on the nose. It's a weird yet oddly familiar BC-esque aroma that you can often pick up regardless of the grape variety.
My guess: Pinot Grigio from Veneto, Italy.
Was really: 2012 Mission Hill Family Estate Martin's Lane Viognier.
What?!?! I definitely don't completely believe the post-tasting session pamphlet's notes of "tangerine, crème fraîche, and peach syrup". No ma'am, and nice try.
Whoever rose their hand and said they guessed Viognier was LYING. Actually probably not and I'm jealous.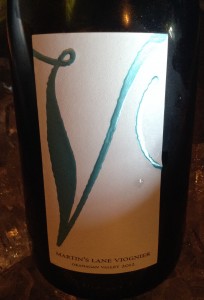 I thought they were throwing a curveball with the fifth wine. If the third wine was Californian Chardonnay, then this was Burgundy. All the points seemed to be there – a lightly oaked nose, elegant body, subtle buttery notes, round acid. Not sure it could be anything else, but then again, I've gotten nothing right so far. Throw me a Beaune, wine gods!
My guess: Chardonnay from Burgundy, France.
Was really: 2011 Louis Latour Grand Ardèche Chardonnay
FINALLY. My goal to get at least one right was been reached! Let's ignore the fact that Ardèche is technically part of the Rhône. (And no one would guess Rhône Chardonnay anyways.)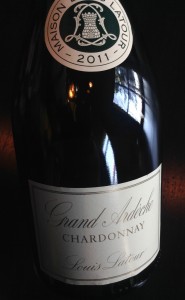 And so we came to the reds. Neither of them particularly spoke to anything specific upon deep fourth and fifth sniffs, which is an obvious call to my inexperience. But the sixth wine was an inky purple, obviously eliminating any thin-skinned grape varieties. The nose wasn't particularly intense but had scents of spice, dark fruit, a bit of a grapiness, and earth. The mouth had a surprising amount of structure to it – and despite ripe tannins, I had at least narrowed this down to the Old World. I attempted to shoehorn the pieces of my impromptu puzzle: the wine had a fruity grapiness because of Grenache; the wine had structure, spice, and dark fruit from Syrah; and the strength and inkiness came from Mourvèdre. It somehow all made sense in my mind.
My guess: Grenache-Syrah-Mourvèdre (GSM) blend from the Southern Rhône, France.
Was really: 2011 Dona Paula Estate Malbec
I think too much and too little. I obviously need to drink more (Malbec).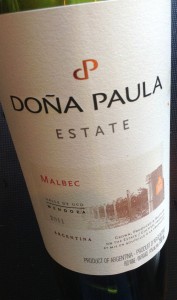 The seventh and last wine stumped me. Definitely less intense in colour compared to the previous – and more of a reddish ruby colour. There was no doubt that this was Old World with an even higher acid and tannin structure than the last – and dusty medium-intense aromas of earth, pepper, and some red and black fruit confused me. I really wasn't sure where to go with this one. I confusingly ventured a guess of Nebbiolo. And then I crossed that out and put Sangiovese just because I couldn't think of much else. Tight as F.
Syrah crossed my mind at one point, but I thought that there would be no way that the only two reds in the flight would be that close to each other – especially because they didn't taste very similar besides slightly subdued noses.
The last question asked for two techniques that the winemaker used to add flavour to the wine, and I was hard-pressed to come up with anything significant in the panicked final minutes. I was the last one in the room and I think I wrote some dumb answer like "malolactic fermentation" or "pumping over".
My guess: Sangiovese(-based blend) from Tuscany, Italy.
Was really: 2011 Brotte Gigondas from Southern Rhône, France.
Gigondas, by law, is mostly Grenache with a minimum of 15% Syrah and Mourvèdre and a maximum of 10% of other grape varieties (not including Carignan). In other words, I orbited the answer but never landed, and my guess for the sixth wine was closer. Ughhhh.
But Gigondas?! Jesus.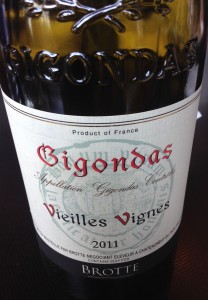 Afterwards, we were were given glasses of rosé and the wines were revealed by their respective representatives. Each reveal was followed by cheers or groans. And outbursts of "are you kidding me?!", "WHAT.", and "gurrrrrrl." (mostly me). And then I cheered at the reveal of the Chardonnay only because I thought everyone else would too, but I ended up just being an awkward asshat.
We were then invited to retry the wines as food was served. So much deliciousness. We were also given complimentary gift bag things! I ultimately failed the test, but there's nothing that an adult loot bag full of candy, wine, and meal vouchers won't fix. Afterwards I met up with some colleagues for lunch, but beforehand I went to buy stickers with which to decorate my tasting book and trade tasting name tag. Because I'm such an adult.
But the event as a whole was fun. I'm glad I did it, and it's definitely a regular feeling in studying wine to be brought back down to the level of an optimistic open-minded failure. It sounds hilariously depressing, but it's a necessary thing when you study wine and practice tasting it. It's a tough activity that requires a serene mind. I look forward to next year.
In the next couple of days it was revealed that the calmed and zen classmate won in our wine trade category. Congrats Angela!