"Daniel in the Den" – Bastille: Château Lafon-Rochet Saint-Estèphe 2009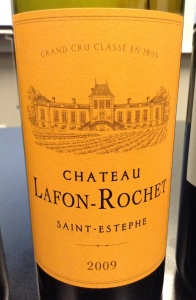 [Tasted during WSET Diploma – Unit 3 – Week 3: Bordeaux]
Exciting! Besides the 2005 Château Clerc-Milon I had earlier this year at the Vancouver Wine Fest, I can't say that I've tasted legit classed Bordeaux before. The whole thing is an antiquated list that still dictates prices and prestige at most, so it's cool getting to try something that has that ingrained reputation. That might seem backwards for someone who studies wine, where it seems like I'd want to try more esoteric and weird things, but Bordeaux is one of those regions where exports are so crucial and centric to its spirit, that it's interesting and equally as important to understand what the hell people are pulling their dicks out of their pants for.
I have a soft spot for Saint-Estèphe because it's the least popular of the four royal communes of the left bank in Bordeaux, with Pauillac and Margaux playing king and queen, and Saint-Julien serving as an intermediate between the two both in style and location. I've read a wine encyclopedia describing Saint-Estèphe as the "least sexy of the Médoc's famous four communes", and I suppose the description comes from its more northerly location and therefore a slightly more uptight profile, with higher acidity and more of a graze to its texture compared to the other communes.
This fourth-growth was a classic style. Brooding black fruit and dried floral flavours joined an earthy spiciness. The body wasn't particularly heavy but still had lush texture, and the frame as well as the concentration exhibited a fair bit of brawn compared to the other wines in our flights. Tannins were chocolatey and ripe as per the vintage. I haven't done a #winetrax in a while, so let's call this one "Daniel in the Den" by the Bastille.
Tasting Note:
Eyes: clear, deep ruby, legs
Nose: clean, med+ intensity, youthful, dried violets, black fruit, cassis, mineral, earth, spice, blueberry, cinnamon, hint of meat, blackberry
Mouth: dry, med body, med+ acid, med+ flavour intensity, med+ fine tannin, earth, oak med+ length, med+ alcohol, cassis, chocolate, coffee, dark fruit, mineral, earth
All in all: Very good quality: there are intense flavours despite the obvious youthful framework of this wine, with balance between fruit, acid, and tannin being quite exceptional. The finish is reasonably long but could be longer, and the wine needs time to define its developmental quality. Can drink now, but has potential for ageing.
Identity Guess: Premium Haut-Médoc from Bordeaux, France; 4 years old.
Is really: Premium Haut-Médoc from Bordeaux, France; 5 years old.
Producer: Château Lafon-Rochet
Designation: N/A
Region: France
Sub-Region: Saint-Estephe, Haut-Médoc, Bordeaux
Variety: Cabernet Sauvignon (67%), Merlot (27%), Petit Verdot (5%), Cabernet Franc (1%)
ABV: 14%
Vintage: 2009
Tasted: October 27, 2014
Price: $88