Gewp: Domaine Zind-Humbrecht 2012 Gewurztraminer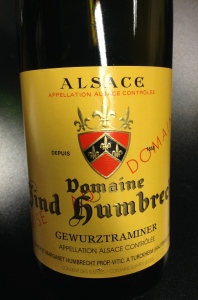 [Tasted during WSET Diploma – Unit 3 – Week 5: Alsace]
Indisputably Gewurztraminer on the nose (if not Muscat), where it was like liquid Bed Bath and Beyond. I might as well have taken a big whiff of my grandma's purse, and it probably would have been more accurate had she been the source of my late aunt's durian-eating habits. I mean I guess the wine isn't so much durian-driven than it is lychee and peaches, but still.
I noticed a bit of bubble by just looking at the glass, as did some other classmates, and indeed there was just a hint of spritz on the palate that other people detected. What's interesting is that we had the exact same wine no more than a couple months prior, and then it seemed perfectly fine, but an in-bottle malolactic fermentation was a possibility for the bit of spritz for this time around. Interestingly enough I noted a fuller body this time around when I compared my notes, which would be a point in favour of the malolactic fermentation hypothesis. Who knows.
Regardless, the palate had similar flavours and was a bit more soapy and floral than I remembered, with low acid and a full body allowing full force. Some classmates thought it was a bit flat but malolactic fermentation would have made hushed the primary fruit and made the low acid even lower. It kinda makes sense.
Tasting Note:
Eyes: clear, med lemon, legs
Nose: clean, pronounced intensity, youthful, perfume, flowers, mineral, hint smoke, tropical fruit, lychee, stone fruit, peach, spice
Mouth: dry, full-bodied, low acid, med+ alcohol, med finish, med+ intensity, flowers, perfume, stone fruit, peach, mineral, lychee, spice
All in all: Good quality? The wine is exuberantly correct on the nose with flower-dominated aromas and low acid, along with a concentrated and oily mouthfeel. The wine's alcohol stands out, however, and it stands out on the finish rather than the wine's flavours. Drink now: not suitable for ageing or further ageing.
Identity Guess: High-priced Gewurztraminer from Alsace AOP, France; 2 years old.
Is really: High-priced Gewurztraminer from Alsace AOP, France; 2 years old.
Producer: Domaine Zind-Humbrecht
Designation: N/A
Region: France
Sub-Region: Alsace
Variety: Gewurztraminer
ABV: 14%
Vintage: 2012
Tasted: November 17, 2014
Price: $30