Thinking 'bout Gew: 2012 Domaine Zind-Humbrecht Gewurztraminer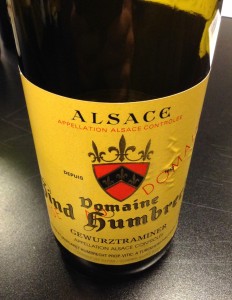 [Tasted during WSET Diploma – Unit 3  – Week 1]
It's often hard to forget grapes like Gewurztraminer. I adore how Oz Clarke describes the grape as wanting to "please everybody", such that it dolls itself up: it's voluptuous, perfumed, and heady. At times, it reminds me of either the quirky and suave fellow or the aunt who seems to only appear at those family gatherings and you know she's just there because you can smell the perfume from miles away. That's the classic Alsatian expression, of course, and there exist some leaner examples which are delicious but are almost disappointing when all you want are, according to Oz Clarke, "clouds of Yves Saint Laurent's Opium, Calvin Klein's Obsession and Giorgio of Beverley Hills to billow out before you, announcing the arrival of the one grape no one can resist." To top it all off, the grapes are often a dark pinkish lavender smoky-eye colour that, perhaps, you'd never guess would make white wine.
Thusly you'd think that it would be so gettable, like that noxious aunt – and it often is – but it can be confused with grapes like Muscat, Viognier, and at times, Torrontes. Gewurztraminer is a grape that's naturally quite low in acidity so it's a bit of a giveaway like in this wine, where the low acid comes out in the pillowy texture. Low acid is tough because it often disrobes the wine to reveal any trace of residual sugar, but this wine was still noticeably dry. That being said, apparently I'm not allowed to bully Gewurztraminer in my WSET quality assessment for having flabby structure since that's what it's normally like. Born This Way by Lady Gaga, or something.
I'm almost never in the mood for Gewurztraminer, but then again it's almost a solution to nosing those scented lotions that are so good that you kinda wanna eat them. I hope that's not just me.
Tasting Note:
Eyes: clear, med lemon, legs
Nose: clean, youthful, med+ intensity, floral, spice, cardamom, stone fruit, peach, lychee
Mouth: dry, med body, low acid, med+ alcohol, med+flavour intensity, med+ length, floral, spice, cardamom, stone fruit, lychee
All in all: Very good quality: the pillowy and textured wine has intensity and a relatively long and phenolic finish with typicity to boot, but could have more complexity to its flavour profile.
Identity Guess: Mid-priced Gewurztraminer from Alsace, France; 3 years old.
Is really: High-priced Gewurztraminer from Alsace, France; 2 years old.
Producer: Domaine Zind Humbrecht
Designation: N/A
Region: France
Sub-Region: Alsace AOP
Variety: Gewurztraminer
ABV: 14%
Vintage: 2012
Tasted: Ocrober 6, 2014
Price: $30