2010 Henri Bourgeois "La Côte des Monts Damnés" Sancerre
Tasting Note:
Eyes: clear, med- lemon, legs
Nose: clean, pronounced intensity, youthful, gooseberry, grapefruit, melon, asparagus, green beans, fresh, floral, grassy, green apple
Mouth: dry, med- body, high acid, med alcohol, med+ flavour intensity, citrus, grapefruit, asparagus, green beans, mineral, med+ finish
All in all: Very good quality: a very characterful grape identity is also well-balanced in its acid; it is also persistent on the palate and has a moderate amount of complexity. Drink now; not suitable for ageing.
Identity Guess: Mid-priced (Chardonnay/Semillon/Sauvignon Blanc/Sauvignon Blanc Semillon Blend) from New Zealand; 2 years old.
Is really: High-priced Sancerre from The Loire Valley, France; 3 years old.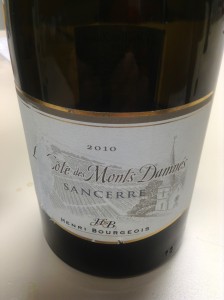 [Tasted during WSET Diploma class – Section 1 – Week 10]
Bam. Even though this was a semi-blind flight, even someone new to wine could instantly smell the grassiness that was a Sauvignon Blanc. It's a trendy grape right now along with Pinot Grigio, leaving Chardonnay and Riesling in the background – couple this with summer, and it's a grape that produces wines that can fly off the shelves.
Sauvignon Blanc isn't a "serious" grape. It hardly ever ages, its character is dominated by primary aromas, and much like Gewurztraminer, Sauvignon Blanc is both pronounced in its character and is usually unmistakeable in its aromas, but with more mouthwatering acidity than Gew. Although I preach its distinctiveness, it has a range of emotion, from the restrained gunflint versions in the Loire, the oaked versions in California, and the greenness more expressed as stewed bell pepper and jalapeño combined with lower acidity in areas like Chile.
So we come across this wine, and despite the fact that the class can often be split on identifying wines, I would say that the majority of the class guessed that this was from New Zealand. Not Chile, we said: too lean, green, and bright. And not Sancerre, either: too fruity. A wine like this was from the New World, and from a cool climate at that.
It was a bit of a surprise to find out that this was from none other than Sancerre. The searing acid makes much more sense here – New Zealand Sauvignon Blanc is apparently softer in its structure. But the fruitiness is perhaps a response to consumers, who find that outward flamboyant style to be popular. Enter a modern style of Sancerre.
I love fresh Sauvignon Blanc on a hot day, and its disappointing when you find one with nothing but at least med+ levels of acid. Sancerre can perhaps be reliable in that sense, but if only these wines weren't so expensive.
Producer: Henri Bourgeois
Designation: "La Côte des Monts Damnés"
Region: France
Sub-Region: Sancerre AOC, Loire Valley
Variety: Sauvignon Blanc
ABV: 13%
Vintage: 2010
Tasted: June 12, 2013
Price: $37