2011 Delaille "Unique" Sauvignon Blanc
Tasting Note:
Eyes: clear, pale lemon, (star bright), (med viscosity)
Nose: clean, med+ intensity, youthful, mineral-driven, citrus, lemon, grass, mineral, gooseberry, grapefruit, smoky minerality, green peas, hint of pear
Mouth: dry, med body, high acidity, med alcohol, med length, med+ flavour intensity, citrus, lemon, lime rind, lemon seed (ugh, probably subconsciously stole those last two from SOMM as I suspected), grassy, grapefruit, (med complexity)
All in all: Good quality: this classic Loire-driven Sauvignon Blanc is restrained on the nose but is more expressive on the palate. A bit linear, but elegant and well-balanced – especially in its acid – but I would have loved a longer length. Drink now; not suitable for ageing.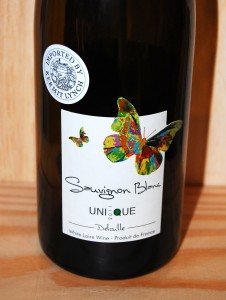 Vancouver's plateau of summer heat is slowly crescendoing and I am not wasting one minute in between work. Besides a week full of plans, today is my designated day to be lazy and drink Sauvignon Blanc.
The wine is as pretty and elegant as the label but perhaps not as colourful, although it's  both easy and tough tasting Sauvignon Blanc because it's so gettable: as a result it's easy to spitball every single obvious Sauvignon characteristic onto a tasting note. In this case, though, we have a classic Loire Sauvignon Blanc – perhaps as a reply to the more modern Loire Sauvignon Blancs or Sancerres of the world – with a classic fruit-restrained nose, a much more expressive palate, and a seamlessly balanced acidity on the palate. A bit linear, though.
Less complex wines can often be hard to justify at high price points, especially for the shy and elegant whites of the Loire. The beauty in delicate wines like these are the balance in acidity – the wine is quite bright and round at the same time; no component dares to sing over the other, and although I hate the word "finesse" (only because I don't think that I truly understand it), this wine seems to have it. Delicate and subtle yet strong, like carbon-fibre.
Oyster wine, raw or cooked and drenched with butter, tested and true. As tough as it is to describe: the minerality and acidity in the wine play with the brine and delicate body of the oyster, creating a lasting, refreshing, and satisfying combination.
That being said, Sauvignon Blanc isn't usually a grape I find too exciting. The first few sniffs and sips are awesome, but rarely has a bottle kept me sweaty and hot throughout. New World counterparts are a bit more exciting and flamboyant, but you buy Loire Sauvignon Blanc because you want Loire Sauvignon Blanc. The grape can rarely be an adventure, which is ironic considering the pronounced scents reminiscent of the outdoors. I don't know.
Now I'm going to lie down outside, get bitten by bugs, wonder when I should catch up with paperwork, and relax to the max with this glax of Sauvignon Blanx. Baby Sancerre.
Producer: Delaille
Designation: "Unique"
Region: France
Sub-Region: Loire
Variety: Sauvignon Blanc
ABV: 12%
Vintage: 2011
Tasted: July 2, 2013
Price: $27