Coteaux du who Sancerre what?: 2011 Henri Bourgeois "Terre de Fumée" Coteaux du Giennois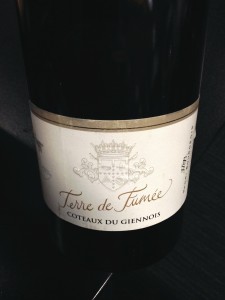 [Tasted during WSET Diploma – Unit 3 – Week 2: Loire Valley]
Second sesh of Unit 3 and we get Sauv Blanc in the first of our flight again, and despite how obvious the grape can seem, I always seem to slip it up. I thought it was some really weird Muscadet at first – which is inherently neutral – but then I went back to this one after smelling the second wine and I shamefully crossed out my first guess.
Coteaux du Giennois is down there with Quincy, Reuilly, and Menetou-Salon as the forgotten hard-to-pronounce children of the Central Vineyards in the Loire, overshadowed by the better-known and much more fashionable Sancerre and Pouilly-Fumé. Coteaux du Giennois is one of those extras you never think you're gonna come across – so much that I didn't bother taking notes on this area during my big Loire marathon last week – but hey: it turns out one or two of these wines exist in our market. It's to the northeast of Sancerre and Pouilly-Fumé, equating to a wine region that's very much inland from the Atlantic and one of the most rainy and continental regions in the Loire. And 2011 was a tough year for the Loire, as we saw from other wines in our flights, so this was surprisingly appetizing.
I'm not sure if it's just the style of the appellation or its terroir, but the wine had a bit more volume and less restraint than your typical Loire Sauv Blanc, like the modern Sancerres that I've come across, so much that there was a minor discussion on how this wine had something inherently un-Sancerre-y about it. There came the intense citrus and green fruit with a grassiness and a whisper of brine, with a very well-balanced acidity along with a savoury vein. The wine was undeniably very good quality, and that was even when I thought it was Muscadet, which is rarely in that camp of quality. Also, $22? Killer price. Henri Bourgeois makes a Sancerre for $37 which is ~*~delicious~*~, but this most certainly is fantastic value. I haven't had a real drink in two days and I'm considering not being a lazy jerk and going out to pick up a bottle. Perhaps this one, maybe.
Tasting Note:
Eyes: clear, med lemon, legs
Nose: clean, med+ intensity, youthful, green apple, citrus, mineral, flint, grassy, hint brine, asparagus, lemon
Mouth: dry, med body, med+ acid, med- alcohol, med+ length, med+ flavour intensity, hint brine, mineral, green fruit, green apple, citrus, grassy, very savoury
All in all: Very good quality: the wine has a well-balanced acid that lets the flavours through. The length is relatively lasting and the flavours complex, though more complexity would boost the wine to a higher quality designation. Drink now: not suitable for ageing or further ageing.
Identity Guess: High-priced Sancerre from Loire Valley, France; 2 years old.
Is really: Mid-priced Coteaux du Giennois from Loire Valley, France; 3 years old.
Producer: Henri Bourgeois
Designation: "Terre de Fumée"
Region: France
Sub-Region: Coteaux de Giennois AOC, Loire Valley
Variety: Sauvignon Blanc
ABV: 12.5%
Vintage: 2011
Tasted: October 20, 2014
Price: $22