Untuned Violin: 2011 Château Grand Renom Bordeaux Blanc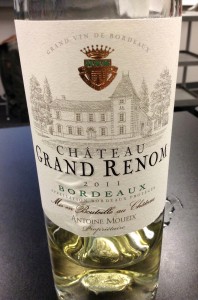 [Tasted during WSET Diploma – Unit 3 – Week 1]
Inaugural WSET Diploma Unit 3 wine! In other words, it's the wine that begins the descent into the most tortuous unit of the whole shindig. The first sip has sealed the deal and I feel like I've sold my soul to the devil. What have I done?!
Sauvignon Blanc is such a gettable grape that it almost freaks me out that it didn't come to me on the first sniff. Simple minerals and citrus, I thought, so this must be a run-of-the-mill white bread Pinot Grigio from Italy. Luckily the two other white wines in the flight were distinct – from the baked apple and oaky glass of the second, to the soft floral lychee of the third – so when I came back to the first wine the typical greenness was a little more evident. Sauvignon Blanc was a shoe-in, and the high acid suddenly made more sense.
But where from? The austerity and muted nose deflected the new world from my conclusion: if anything, France seemed to be the only logical choice given that it's the only classic old world region that grows this grape. But New Zealand wasn't completely out of my grasp since this I've been involved with such trickery before. I eventually landed a guess of some entry-level Loire Sauv Blanc, but apparently this was one from the more southerly Bordeaux, and I suppose this makes sense given the slightly heavier and creamier body. I was tired and Bordeaux didn't even enter my mind, though I feel like I still wouldn't have chosen it. You know I'm actually tired when I fall sleep before midnight.
Apparently this wine had some oak on it – to what extent, I don't know. I sure didn't pick up on it, and I'm almost positive almost everyone in the room didn't, either.
It's light and slightly unbalanced. It's refreshing and fun, and I'll give it that much, but I feel that if you're going to dull the aromatic characteristics of Sauv Blanc, you might as well amp up something else. Perhaps that's what the oak was supposed to do, but it just feels tight, shy, and repressed. The wine has the taut acidity of a violin wire but comes off as untuned.
Christ – that sort of comment makes me feel like I'm Zac Posen on Project Runway. Which is basically what I've been watching in between studying.
Tasting Note:
Eyes: clear, pale lemon-green, legs
Nose: clean, med intensity, youthful, citrus, mineral, lemon, grapefruit, herbaceous, green peas
Mouth: dry, med body, high acid, med alcohol, med flavour intensity, med- length, mineral, citrus, lemon, lemon rind, herbaceous, asparagus
All in all: Good quality: wine was has structure, balance and typicity, though the wine has a relatively short length and an overall simple visage. Drink now: not suitable for ageing or further ageing.
Identity Guess: Mid-priced Sauvignon Blanc from the Loire, France; 2 years old.
Is really: Mid-priced Sauvignon Blanc from Bordeaux, France; 3 years old.
Producer: Château Grand Renom
Designation: N/A
Region: France
Sub-Region: Bordeaux AOP
Variety: Sauvignon Blanc
ABV: 12%
Vintage: 2011
Tasted: October 6, 2014
Price: $17