WSET Diploma – Unit 3 – Week 4: Workshop
Only five of the fifteen-ish of us showed up for class today, maybe because the topic of the class was "Workshop", which sort of sounds unexciting, vague, and the opposite of compelling. Perhaps it was the endless rain last night, and I don't blame the people who decided to dodge the fat and thunderous drops of Vancouver rain, instead opting to wrap themselves up in a thick blanket while eating pizza and watching Netflix. Hey – I'm jealous of you. But you know shit starts to get serious when you start practicing exam skills no more than four weeks into the unit, just at the brink of November, and the exam is in June.
We went over the exam structure, had an hour-long practice session for the written portion of the exam, and then we had a half-hour-long session for the tasting portion of the exam. These are of course just mini sessions, since the actual written portion of the exam is thrice as long and the tasting, around fourfold longer. And it's tough to be practicing the written portion since we've only really studied two regional areas (Loire and Bordeaux), and there aren't enough minutes in the day to have consolidated all that information in my brain. The Loire wasn't too bad of a section to study for. I'm in the flash card stage, but I'm still neck-deep in Bordeaux for notes – I counted around 31 pages of notes so far, front and back, and I'm hardly finished with the section.
It's easy to see that you can't do well with the WSET Diploma unless you have some sort of love affair with the universe of wine. Or I don't know. A complicated relationship at most involving awkward make-out sessions.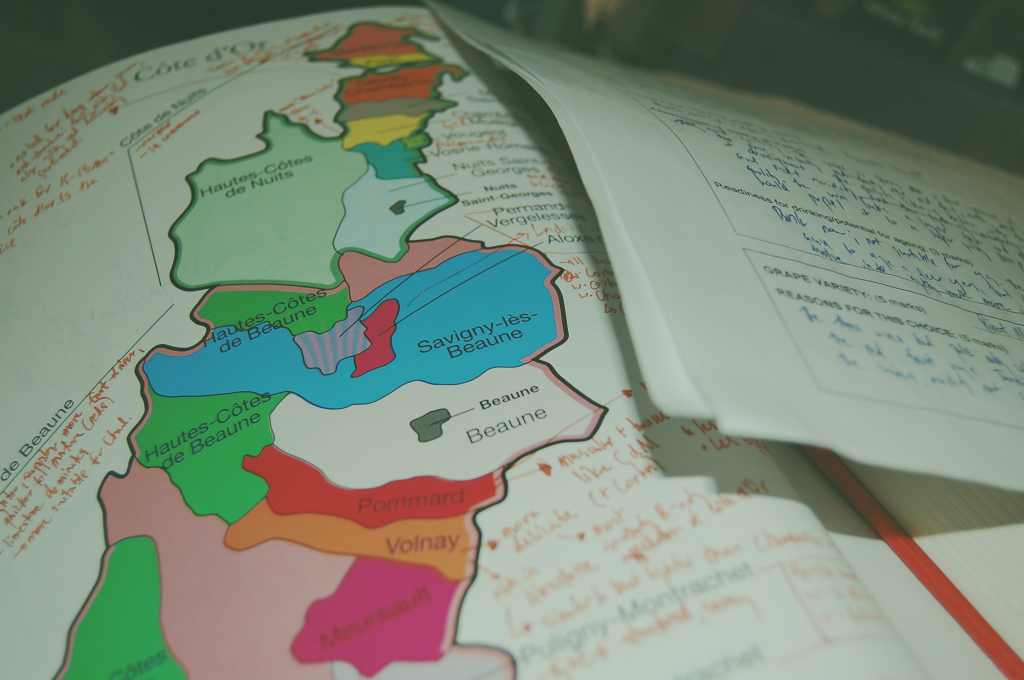 For the written practice we had a compulsory question on the Loire which was broad and tough enough that I knew I hadn't wrangled the relevant information from studying into the file cabinets of my brain. Soil types will be the death of me. Then, we had to answer a question from a choice of five, and I wrote about the reasons of worldwide success of Sauvignon Blanc. Though I feel I did well, we compared our answers to examples that achieved high marks. I certainly would not have passed, because I obviously still need to study, but it also looks like I was a prescription-writing doctor in my past life. I can't help it. I can't even read my own writing half the time.
We tried a flight of three Pinot Noirs, though we didn't know they were Pinots, but we were told they were all the same grape variety and had to justify our reason for choosing a certain one. It seemed quite obvious to me, and it turns out I guessed the country of each wine correctly. That being said, I underestimated the quality of the first wine and overestimated the quality of the third, so some part of my brain definitely needs fine-tuning.
The days and weeks are blending together. Gah! Remember when I used to be able to talk about other happenings in my life with these posts?
Domaine Pavelot 2010 "Les Vergelesses" Pernand-Vergelesses
Mark West 2012 Pinot Noir
Mud House 2009 Pinot Noir