I need to drink more Burgundy: Domaine Pavelot 2010 "Les Vergelesses" Pernand-Vergelesses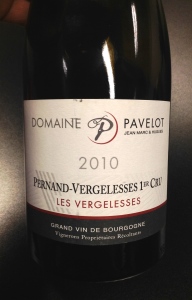 [Tasted during WSET Diploma – Unit 3 – Week 4: Workshop]
Out of the three wines we tried in our flight of, this was definitely the most old world – that is, the most earthy and austere, with fruits in the red section of the spectrum but geared towards a bit of a pleasant sour unripeness, so much that if you had me smell (but not taste) this blind not knowing the other two wines in the flight, I may have guessed something like Sangiovese, which is sort of known for just that. Sangiovese has much more tannin and scratch, though, while this was quite soft.
I remember studying a bit of Pernand-Vergelesses mostly when committing Burgundy's Côte d'Or to memory for the CMS Certified Sommelier exam, and my imprecise definition of the area is a mere blob of an appellation within the Savigny-lès-Beaune appellation in the Côte de Beaune. This region of the Côte d'Or is more known for its suppler and lighter reds (being more famous for its whites), and Pernand-Vergelesses has cooler east-facing slopes, perhaps manifesting its mesoclimate in the flinty red fruit of the wine, which certainly provided a contrast to the next two wines in the flight.
I underestimated the quality of the wine – though some classmates insisted on longer length (I still swear on med or med+), I did admittedly miss some complexity (like oak, which is always tough for me in reds) that seemed to show more when isolated from the ripeness of the other two wines. I initially thought this was a regional Bourgogne Pinot Noir and I mistook elegance for a lack of concentration. It's easy to do that, and easy to fall over that fence in Burgundy, where elegance and wateriness become a line as thin as a Riedel glass – and it's even harder to tell when the flight of wines is so dynamic.
Tasting Note:
Eyes: clear, pale ruby, legs
Nose: clean, med+ intensity, developing, red fruit, earth, spice, sour cherry, strawberry, hint herbs, oak, floral
Mouth: dry, med- body, high acid, med- chalky tannin, med alcohol, med+ length, med+ intensity, red fruit, sour cherry, strawberry, earth, spice, oak, floral, savoury
All in all: Very good quality: the wine shows a fantastic amount of complexity while being blanketed by high acid and a relatively long finish. Age will bring about more complexity. Can drink now, but has potential for ageing.
Identity Guess: Mid-priced Pinot Noir from Burgundy, France; 3 years old.
Is really: Premium Pinot Noir from Burgundy, France; 4 years old.
Producer: Domaine Pavelot
Designation: "Les Vergelesses"
Region: France
Sub-Region: Pernand-Vergelesses AOC, Côte d'Or, Burgundy
Variety: Pinot Noir
ABV: 13%
Vintage: 2010
Tasted: November 3, 2014
Price: $60