Mud House, in the middle of our street: Mud House 2010 Pinot Noir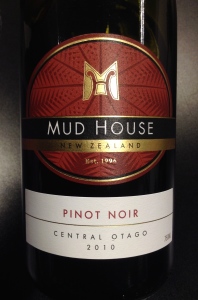 [Tasted during WSET Diploma – Unit 3 – Week 4: Workshop]
The third wine in our flight of three was most certainly the ripest in its fruit and probably the most intense as well (though the instructor aptly reminded us that this isn't necessarily an indicator of quality).
The fuller-bodied and ripe red fruit along with the fair amount of acidity shouted New Zealand to me, and the guess of Martinborough was something I sort of partially pulled from thin air. Apparently Martinborough Pinots tend to be the most Burgundian, tending towards spice and plummy fruit, while Marlborough is lighter and more cheery in its red fruit. Central Otago Pinot Noir expresses itself toward that darker end of the red fruit spectrum and usually has a bit of a green note which I've heard manifests itself in a sage-like aroma. Central Otago is the style that lands in between Marlborough and Martinborough, I suppose.
I guess the bit of greenness has to do with the fact that Central Otago is the southernmost winemaking region in the world which makes it cooler than the other Pinot-centric regions of New Zealand. Here there was little to no herbal character but there was a hint of floral and developing leatheriness happening in the glass. I quite liked it – there was enough acid to balance the ripe red fruit, unlike the second wine in our flight, which was sort of just flabby with its belly lying out. Like a Josh.
Admittedly my favourite in our flight of three even more so than the more costly Burgundy that was of the highest quality in our flight.
Tasting Note:
Eyes: clear, pale ruby, legs
Nose: clean, med+ intensity, developing, earth, mineral, dried red fruit, spice, pepper, strawberry, cherry, floral, hint leather
Mouth: dry, med body, med+ acidity, med- fine tannin, med alcohol, med length, med+ intensity, earth, red fruit, dried red fruit, strawberry, mineral, hint leather
All in all: Good quality: the wine is showing a fair amount of complexity on the nose, including some development. The palate shows balance with the ripe red fruit and med+ acidity. Though good quality, the wine lacks a longer finish and more complexity that would propel it to a higher quality designation. Drink now; not suitable for ageing.
Identity Guess: High-priced Pinot Noir from Martinborough, New Zealand; 3 years old.
Is really: Mid-priced Pinot Noir from Central Otago, New Zealand; 4 years old.
Producer: Mud House
Designation: N/A
Region: New Zealand
Sub-Region: Central Otago
Variety: Pinot Noir
ABV: 13.5%
Vintage: 2009
Tasted: November 3, 2014
Price: $23