Halloween candy: Mark West 2012 Pinot Noir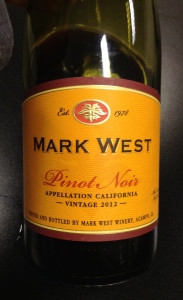 [Tasted during WSET Diploma – Unit 3 – Week 4: Workshop]
The second wine in our flight of three was clearly the lowest quality, though perhaps premature conclusions were drawn just from smelling the three without having tasted them yet. It's that sort of jammy strawberry and vanilla thing, but it's not a complex strawberry compote sort of deal. Maybe kind of like those Campino candy things without the yogurt connotation (and maybe even worse than that), but maybe candy is on my mind because I haven't had my fair share of Halloween treats this year. Hrmph. I suppose this comes close. I mean it's an orange label.
The palate seals the deal with a lightly-bodied wine and almost no acid to balance out the sweetness, but I suppose the saccharine fruit superficially lengthens the flavours on the back palate.
$18 is a tough price point for a wine that's merely acceptable by WSET standards, but we're reminded that Pinot Noir is a tough grape to grow regardless of the climate. It's "acceptable", but it's most definitely not unpleasant. I'll give it that much.
Tasting Note:
Eyes: clear, pale ruby, legs
Nose: clean, pronounced intensity, youthful, bubble gum, candied red fruit, strawberry, strawberry jam, confection, vanilla
Mouth: dry, med- body, low acidity, low tannin, med alcohol, short finish, med intensity, red fruit, strawberry, jam, hints of confection
All in all: Acceptable quality: though the wine is aromatic, it exudes candied and confected aromas that do not match up with the true nature of the grape variety. The wine is almost sweet on the palate with insufficient acid to balance the ripe fruit and sweet vanilla. Drink now: not suitable for ageing.
Identity Guess: Mid-priced Pinot Noir from California, USA; 2 years old.
Is really: Mid-priced Pinot Noir from California, USA; 2 yeas old.
Producer: Mark West
Designation: N/A
Region: USA
Sub-Region: California
Variety: Pinot Noir
ABV: 13.8%
Vintage: 2012
Tasted: November 3, 2014
Price: $18