WSET Diploma – Section 2 – Week 1
Jan 8-9, 2014
I've been putting off a life update for a while due to a whirlwind of busy with wads of procrastination stuffed in between. I've completed the WSET Diploma Unit 4 (Spirits) exam back in November which wasn't too bad, but I'm less confident about the coursework assignment I handed in for Unit 1 (Business). It might be the case that I'm too unaware of how the global market works for me to have compiled my data and interpreted it sufficiently like an intelligent person, and we'll see if a rewrite is needed. In any case, it's done. I slaved for hours on that essay – and my printer, of course – ran out of ink the night before I handed it in. Murphy.
2014, though! I'm not a big fan of New Year's resolutions, but I haven't had any alcohol in my past system for the past couple of days and I've woken up feeling fantastic. But I broke the streak today by doing a wine tasting video with Chris (quality pending) and I'll be heading to a beer shindig later this evening (sobriety pending).
It's January, which means that it's WSET Diploma Unit 5 (Sparkling) + Unit 6 (Fortified) time – fitting for both the new year and the grey Vancouver weather. The first flight of sparkling and fortified (3 each) was interesting. We were told that the first three were from the same country, but no info was given for the fortified wines. Luckily, I seemed to have prepared myself well for sparkling in the past month or so (3 for 3!) but unfortunately I didn't get any of the fortified wines correctly even though it seems rather obvious now. Who the hell drinks Madeira nowadays?! Though really, we should be.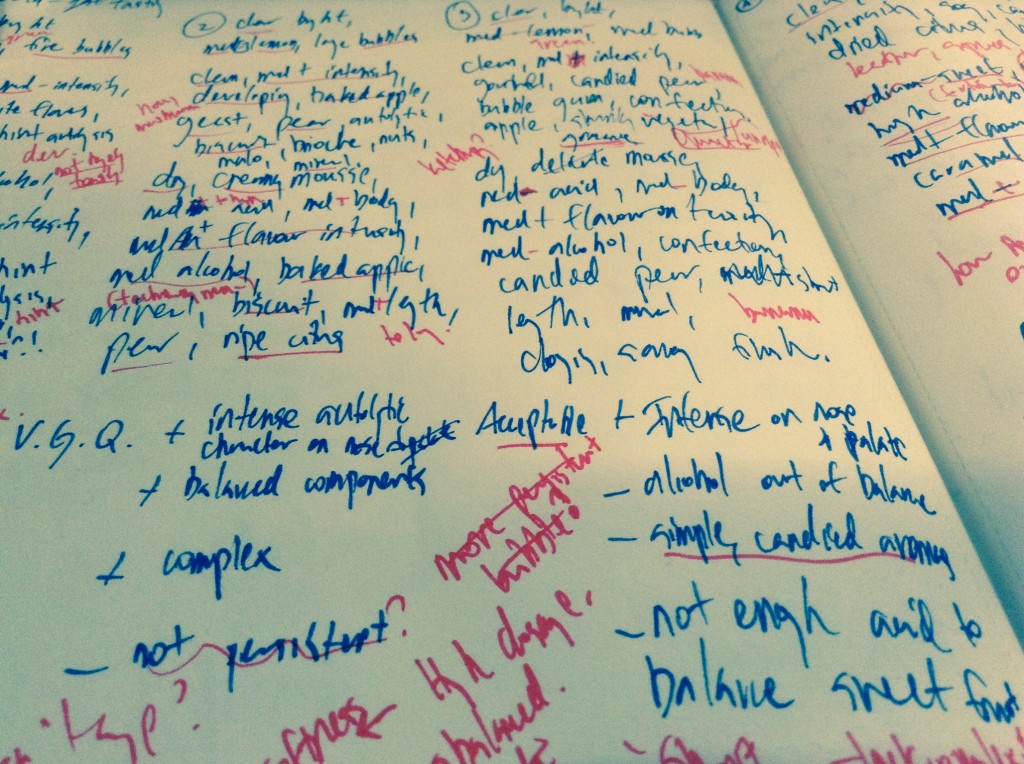 The class is  smaller than the spirits class which is nicer. I still have my tasting chops for sparkling, but the weightier, headier, and more concentrated fortified wines will take some time getting used to.
NV Bailly Lapierre Crémant de Bourgogne Réserve Brut: [Kaolin – "Partons Vite" (#winetrax)]
NV Charles Heidsieck Champagne Brut Réserve: [Bastille – "Pompeii" (#winetrax)]
NV Veuve du Vernay Brut: [A quick and messy party]
Blandy's "Duke of Clarence" Rich Madeira: [The pawn that reaches the end of the chess board]
Graham's 10 Year Old Tawny Port: [The first of December]
Gonzalez Byass "Nutty Solera" Medium Sherry: [A woven Christmas sweater]