Bastille – "Pompeii": NV Charles Heidsieck Champagne Brut Réserve
Tasting Note:
Eyes: clear, med lemon, bubbles noted
Nose: clean, med+ intensity, developing, baked apple, yeast, pear, autolytic, biscuit, brioche, nuts, mineral, honey, mushroom
Mouth: dry, creamy mousse, med+ acid, med+ body, med+ flavour intensity, med alcohol, baked apple, mineral, biscuit, ripe citrus, pear, med+ length
All in all: Very good quality: the sparkling wine has an intense and complex nose with lots of autolytic character. The wine is also quite balanced, though slightly less so with the alcohol. Drink now: not suitable for ageing.
Identity Guess: Premium Non-Vintage Champagne from France.
Is really: Premium Non-Vintage Champagne from France.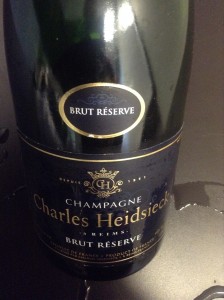 [Tasted during WSET Diploma class – Section 2 – Week 1]
Yes – what you see in that picture isn't actually condensation, it's actually a small puddle of human tears. Maybe it's sweat.
This Champagne is different than the direct and elegant ones that you often see, and is much more fuller in body and powerful, with the autolytic complexity being authoritative, yet the wine still upbeat and sprinting. I'm thinking "Pompeii" by Bastille: persuasive, kingly, and textured, with a hint of melancholy.
And the walls kept tumbling down
In the city that we love
Grey clouds roll over the hills
Bringing darkness from above
That's right, I just quoted lyrics from a song on my blog like a 16 year old, and you're just going to have to deal with it while I pretend that the lyrics are about the Champagne Riots and shitty rains before grape harvest.
ALSO, this song literally started playing when Naomi Campbell appeared on the screen for her new modelling show, dressed to perfection and in a fucking private jet. That's how you know this song works, and I think we should all watch 30-second loops of her highness, drink this, and play this song over and over again.
Maybe I don't watch that show. Maybe I do. Moving on.
Anyways: how this Champagne remains the (relatively) cheap price of $70 (*insert crowd groan here*) is beyond me (*insert laughter from non-Canadians here*). Further excited flips through the new edition of Tom Stevenson's Champagne & Sparkling Wine textbook assure me that this isn't some mistake, but rather a rare diamond in the rough of the endless bottles of what-do-I-buy expensive Champagne.
I'm wondering whether or not this wine will jet up in price (or has it always been this cheap? Has it always existed in this market?), or perhaps the articles of the excited wine writers will somehow reach the public and stocks will fly off the shelves only for the tears of joy in the picture to be replaced with those of the sad variety. Bad times.
There are endless Champagnes (and other traditionally-made sparklings) which inherently promise autolytic and toasty characteristics from sitting on the lees, or the dead yeast cells. Apparently the breaking down of the yeast cells (autolysis) doesn't always happen regardless of winemakers that try to make it so, and this is perhaps why not all of the wines destined to be Champagne-esque end up tasting like broken promises. More bad times.
If could ever afford a term such as "everyday Champagne", this would be it.
Producer: Charles Heidsieck
Designation: Brut Réserve
Region: France
Sub-Region: Champagne
Variety: Chardonnay, Pinot Noir, Meunier (equal proportions)
ABV: 12%
Vintage: NV
Tasted: January 8, 2014
Price: $70