The first of December: Graham's 10 Year Old Tawny Port
Tasting Note:
Eyes: clear, med+ tawny, legs
Nose: clean, fully developed, med+ intensity, dried red fruit, dried strawberry, dried cherry, prune, raisin, nuts, spice, white pepper, earth, hint mushroom, fig, dried flowers
Mouth: sweet, med+ body, med acid, high alcohol/fortification, med+ length, med+ flavour intensity, earth, mushroom, dried red fruit, dried strawberry, dried cherry, nuts, raisin, low and fine-grained tannin
All in all: Very good quality: the wine is intense, complex, and persistent, but could have benefitted from slightly more tertiary complexity. Drink now: not suitable for ageing.
Identity Guess: Mid-priced Banyuls from France.
Is really: High-priced Port from Portugal, 10 Years Old.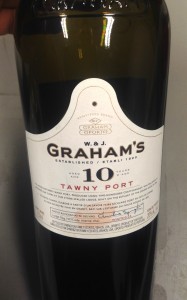 [Tasted during WSET Diploma class – Section 2 – Week 1]
Port is an interesting thing. It's one of those things I've fallen in love with upon first high-quality angelic sip, but there's really no one to open subsequent bottles with, and that much sugar in one sitting sounds like a recipe of caloric disaster. So I haven't had port in a long time. But I think I'm actually trying to come up with excuses for having guessed something ridiculous like Banyuls, which, I think, would have been a lot more chocolatey, intense, and deeply fruited. But again with the I-don't-drink-this-stuff-regularly card. I think it's time for tasting study groups.
Banyuls guesses aside, The wine seemed quite ruby-tawny confusing to me – partly because I need to recalibrate my palate, and probably partly because this tawny has only been aged for 10 years. At this age, we see less of the secondary and tertiary components and we see a lot more dried fruit components that are sort of ruby port-like. It's like the dawn of the holidays, where you're not sure whether or not you should agree with the radios for beginning to play Christmas music. But unlike the holiday rush, the wine was delicious and of great value.
A couple years ago I brought port to a dinner party but the group (made up mostly of non-drinkers) preferred the Asti Spumante (duh). I ended up not opening it, but I did open it at home, drank maybe a quarter of it, and I'm pretty sure it's still in the kitchen somewhere. Again with the study groups thing.
Edit: I found the bottle. It's still there.
Producer: Graham's
Designation: 10 Year Old Tawny Port
Region: Portugal
Sub-Region: Douro
Variety: Blend
ABV: 20%
Vintage: NV
Tasted: January 8, 2014
Price: $40