Kaolin – "Partons Vite": NV Bailly Lapierre Crémant de Bourgogne Réserve Brut
Tasting Note:
Eyes: clear, pale lemon-green, bubbles noted
Nose: clean, youthful, med intensity, green apple, mineral, white flowers, pear, citrus, flint, hint autolysis, white bread
Mouth: dry, med+ acid, med- alcohol, med- body, med+ flavour intensity, flint, apple, pear, mineral, hint autolysis, floral, med length, creamy mousse
All in all: Good quality: the moderately complex sparkling wine is balanced, but could benefit from more concentration and persistence. Drink now; not suitable for ageing. 
Identity Guess: Mid-priced Non-Vintage Crémant de Bourgogne from France.
Is really: Mid-priced Non-Vintage Crémant de Bourgogne from France.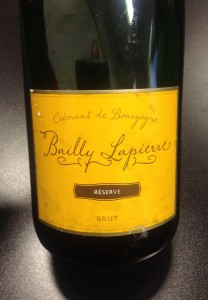 [Tasted during WSET Diploma class – Section 2 – Week 1]
Crémant is practically the poor man's Champagne – the French sparkling is made in the traditional method, with permitted grapes depending on the region. So far, I've only come across Crémants where differences are weirdly (or maybe not so weirdly) subtle, with maybe a honeyed nuttiness from Chenin Blanc in the Loire or a more clean and steely character from Crémant de Bourgogne. Sort of uptight and snobbish, but elegant and always mineral-driven.
The wine was just that – a restrained and elegant wine with subtle notes of pear, apple, white flowers, and white bread. A generally uplifting, happy, and nonchalant wine without being too optimistic, kind of like the vibe of Kaolin's "Partons Vite", which was, embarrassingly enough, one of my why-is-my-life-like-this sort of songs during high school that I would jam to with earphones on, if you can even picture me jamming to French folk-ish music. Yes. Teenaged love troubles: now in drinkable form!
We were told that the three sparkling wines in the flight were from the same country. Without even having tried the other two, the delicate but steely apple and pear notes reminded me of Prosecco, but revisits to the glass confirmed a slightly autolytic character on the nose. But it's something you almost have to really dig for. Maybe I just have beef with certain kinds of wine, because our instructor said this was one of this go-to cheaper sparklers. I believe it.
Producer: Bailly Lapierre
Designation: Réserve Brut
Region: France
Sub-Region: Burgundy
Variety: Pinot Noir, Chardonnay, Gamay, Aligoté
ABV: 12%
Vintage: NV
Tasted: January 8, 2014
Price: $25