The pawn that reaches the end of the chess board: Blandy's "Duke of Clarence" Rich Madeira
Tasting Note:
Eyes: clear med brown, legs
Nose: clean, fully developed, med+ intensity, soy, caramel, nuts, dried citrus, brown sugar, almond, toffee, cola, molasses, leather, spices, cloves
Mouth: sweet, med+ acid, high alcohol/fortification, med+ body, med+ flavour intensity, butter, nuts, caramel, soy, dried citrus, brown sugar, toffee, almond, med+ length
All in all: Very good quality: the wine is complex, concentrated, and persistent, though could have benefitted from a better alcohol balance. Drink now: not suitable for ageing.
Identity Guess: Mid-priced medium-dry Sherry from Spain.
Is really: High-priced sweet Madeira from Portugal.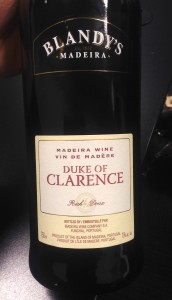 [Tasted during WSET Diploma class – Section 2 – Week 1]
I honestly do not remember the last time I've formally tried a Madeira. It must have been maybe back in the WSET Advanced days, which was literally over a year ago. I'm only perpetuating the idea that Madeira is the biggest underdog of the wine world to the point of worry, where wine authorities wonder about its slow demise or pessimistically hope for its return in a world full of so many other things. Maybe I dreamed that it was so dramatic. But it's for poor ol' Madeira, so I'll take it.
Madeira is known for being quite unique and "indestructible" in a sense that it's intentionally heated and oxidized. As a result, it can have a similar oxidized nuttiness like Sherry does. Unlike Sherry, though, Madeira has much more acid on the palate, which is something that I should have taken into consideration during the blind flight. Learning curve.
The nose had distinct oxidized notes of almonds, cola, and soy. It's a weird combination that blends together well, and there's an interesting hint of dried citrus along with some spice and leather. As if Madeira and Sherry weren't already sort of similar, there are subsections of each which will make it even more difficult during blind flights, but then I wonder if anyone who's allergic to nuts gets a mini-heart attack every time they smell a Sherry or Madeira.
This particular Madeira is made from Tinta Negra Mole, which sort of acts like a mimic to the "noble" Madeira varieties, named: Sercial, Verdelho, Bual, and Malmsey. It's sort of like the pawn that reaches the end of the chess board. Because it's still damn good.
This marks the first Madeira tasting of this unit. Huzzah! Picture me sticking a flag into the ground, except it's a bottle, and I'm actually tossing it into a recycling bin.
Producer: Blandy's
Region: Portugal
Sub-Region: Madeira
Variety: Tinta Negra Mole
ABV: 19%
Vintage: NV
Tasted: January 8, 2014
Price: $27.50