WSET Diploma – Section 1 – Week 7
May 22, 2013
The clouds have finally succumbed to rain. And it indeed is raining, and it sure was a bittersweet walk home from the Canada Line and WSET Diploma class with a hat and a thickish flannel. Unfortunately since a couple of days ago, weather forecasts have been hinting to an identical sort of weather for my fake birthday shindig this Saturday (since my real birthday was during exam time), which is okay, because we'll be inside, we'll be drinking Spatlese followed by less exciting things, and maybe we'll do other fun things like I'm not sure yet. We'll probably just end up playing Resistance.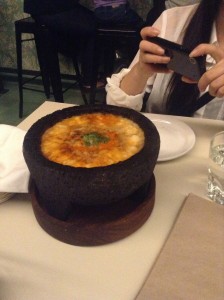 Today's WSET Diploma class was about everything from the alcoholic fermentation to the bottling – mostly things like must adjustments, barrel fermentation, stabilization, fining, filtering – all that fun stuff. It wasn't as boring as it sounds: my bare grasp on the concepts of high school and first year university chemistry have somewhat paid off, and that's just the best part. I don't give a shit about electron bonding patterns (I sincerely wish I did), but tell me how to apply it to wine and I'm happy.
My green pen started leaking in class. I've never had a successful green pen. They're such Pinot Noirs.
In other news, I went to La Mezcaleria with a friend on Sunday because there was a live mariachi band. Queso fundido and ceviche were subsequently gobbled up. How can you not? My friend and I aren't much of the type to take pictures of our food (God forbid) but it's a bowl of cheese. Delicious, unctuous cheese. I once asked what kind of cheese it was and it was a mixture that I don't remember and I think I was drunk.
2002 Anciano Tempranillo Gran Reserva
2008 Eternum Viti "Los Comillos" Toro
2010 St Urbans-Hof Okfener Bockstein Riesling Kabinett
2011 G. Descombes Morgon
2011 Louis Latour Pinot Noir Bourgogne
We didn't have enough time to try the Peller Estates Proprietor's Reserve Dry Red – which I know, hands to heaven and praise the lord – but wine is wine is wine, and I still find it fascinating to put myself in front of another person's wine glass. I'm like a shitty amateur Sherlock version of wine.