2011 Louis Latour Pinot Noir Bourgogne
Tasting Note:
Eyes: clean, med- ruby, legs
Nose: clean, med- intensity, youthful, red fruits, cherry, earth
Mouth: dry, med- body, high acid, med- fine tannin, med alcohol, med+ length, med flavour intensity, cherries, strawberries, earth
All in all: Good quality: a well-balanced high acidity cleanses the comparatively simple aromas and slightly bitter finish, but good concentration is delivered despite the light body. Drink now: not suitable for ageing.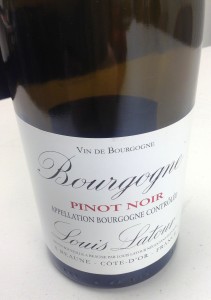 [Tasted during WSET Diploma class – Section 1 – Week 7]
A wine selected by the instructor within our series of wines to illustrate the idea of pasteurization, and probably flash pasteurization in this case (confirmed as per the cute website), where the wine is heated up to a high temperature for a small amount of time to kill all the extras we don't need, whether they be yeasts, bacteria, or some other organism I'll need to know about for the exam. The pasteurization also allows the use of less sulphur, so there's an extra tidbit for the peeps who don't want SO2 in their point of view. Zing! Shitty rhyme intended.
Apparently, a typical entry-level red Bourgogne with a somewhat unique method of pasteurization that was chosen because it wasn't detectable. I wouldn't be able to say anything further than that until some sort of coolio winery opportunity comes up where I can do a side-by-side comparison.
Basic. Simple. Solid. Strengths lie in a well-balanced acidity which can be too-commonly unbalanced for this jerk of a grape variety. Slightly bitter finish but a good amount of concentration; the simplicity is mirrored on the palate.
Producer: Louis Latour
Designation: N/A
Region: France
Sub-Region: Bourgogne AOC, Burgundy
Variety: Pinot Noir
ABV: 13%
Vintage: 2011
Tasted: May 22, 2013
Price: $23