2002 Anciano Tempranillo Gran Reserva
Tasting Note:
Eyes: clear, deep ruby, legs
Nose: clean, med+ intensity, developing, oak, bright red fruit, spice, strawberries, earth, touch of barnyard, opened up with: mocha, chocolate, cacao
Mouth: dry, med bodied, med fine tannin, med acidity, med+ alcohol, med finish, med+ flavour intensity, strawberry, leather, savoury, oak
All in all: Good quality: the structural components are well-balanced, and the wine is very complex. The alcohol is slightly imbalanced and the length could be longer. Drink now: not suitable for ageing.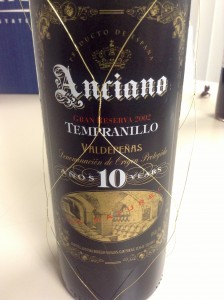 [Tasted during WSET Diploma class – Section 1 – Week 7]
I didn't believe it, and even during my first liquor store gig ever, I scoffed when this came onto the shelves. A Gran Reserva for 16 dollars makes the wine-savvy ruffle their eyebrows and go oh-please. This has to be shitty. Why wouldn't it be? Put some fancy-looking Spanish words on a quasi-chic label complete with fucking gold wire wrapping, and it's exactly like buying anything at the Richmond night market. It looks like it'll be a good deal but it won't be.
The stingy are finally rewarded, and the skeptics lose a point. This is legitimately good stuff. And I know what you're thinking – this has been aged for 10 years before it hit the shelf – of course and without a doubt this will have complexity. But there are way too many examples of good quality wines that fail to have the tightrope balance to last, and even with a lower-priced wine, it's harder to trust it. Way too many wine drinkers think that the older the wine the better it is, but that's not always the case – a misconception any person familiar with the subject will rush to point out sort of like that fun fact you've heard for the 53rd time and don't care about. This can easily be sold for higher prices. I'm not too sure why it's not – cheaper labour and production methods, perhaps.
The wine itself was quite complex. The fruit was balanced with developing characteristics due to age, which also made it softer, but the red fruit was still bright and slightly candied, reminding me of some Barbera d'Asti. Nothing on the palate stood out negatively besides a slight imbalance in alcohol – otherwise, the medium elements blended well together. Over the course of the class, the fruit on the nose quieted down – an intriguing bouquet of dark chocolate and mocha took over, and then I became a believer. A gem for those who don't believe that gems in the world of BC liquor don't exist.
Producer: Anciano
Designation: Gran Reserva
Region: Spain
Sub-Region: Valdepeñas DO
Variety: Tempranillo
ABV: 13%
Vintage: 2022
Tasted: May 22, 2013
Price: $16