2008 Eternum Viti "Los Comillos" Toro
Tasting Note:
Eyes: clean (slightly hazy due to sediment), deep ruby, legs
Nose: clear, med+ intensity, developing, oak, vanilla, spice, red fruits, strawberries, black fruits, earth, oak, smoke, bacon, black cherry
Mouth: dry, med+ bodied, high fine tannin, med acid, med alcohol, med+ finish, med+ flavour intensity, red fruit, oak, black cherry, cinnamon, chocolate
All in all: Very good quality: complex developing aromas are help up by a balanced structure worthy of ageing, despite current high and slightly unbalanced tannin. Med+ length.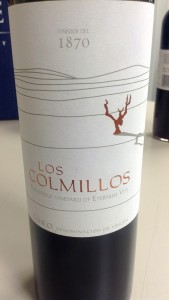 [Tasted during WSET Diploma class – Section 1 – Week 7]
One of the small tidbits I've learned from WSET Advanced is that Toro is known more for their more robust and strong expressions of Tempranillo. A quick flip through my past textbook says that this is due to a thick-skinned clone of Tempranillo (Tinta de Toro). Indeed, this heavier-bodied wine has a large amount of that mouth-drying factor, although the sensation remains ripe since the acid doesn't echo the intensity.
Secondary characteristics reign supreme here, and even though the Valdepeñas Tempranillo we had before this had that hint of playful red fruit despite being 11 years old, the fruit here is very much bordering onto the drier, more serious, and even darker fruit territory. Here there is a little more black cherry, overt oak, and a nose so distinct of some form of smoked bacon that it was worthy of underlining.
I'm not entirely sure I remember why I originally designated this as a lower quality. I was wrong anyways, and before you hiss at me for saying this bacon-wine was anything but very good, I should probably shield myself from the masses by just straight-up mentioning that I'm just not a bacon guy. I know. Stop it.
I was, however, that kid who asked for a bacon add-on in his McDonalds hamburger how many years ago. I won't be sticking pieces of bacon in my glasses of Tempranillo any time soon, but I need to meet that one person that actually is.
Producer: Eternum Viti
Designation: "Los Comillos"
Region: Spain
Sub-Region: Toro DO
Variety: Tempranillo (Tinta de Toro)
ABV: 14.5%
Vintage: 2008
Tasted: May 22, 2013
Price: $45