2011 G. Descombes Morgon
Tasting Note:
Eyes: clear, med ruby, legs
Nose: clean, med intensity, developing, red fruits, raspberry, cherry, earthiness, spice, floral
Mouth: dry, med- body, high acid, med fine tannin, med alcohol, med length, med flavour intensity, red fruits, floral
All in all: Good quality: a good balance is evident in the well-integrated high acidity. Although the flavour characteristics need a bit more time to show their best, the wine is elegant, being light but concentrated in the flavours, despite having a mere med length (although some said med+). Drink now, but has potential for short-term ageing.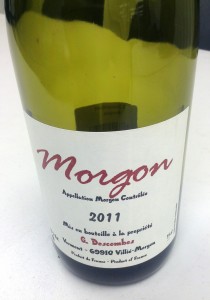 [Tasted during WSET Diploma class – Section 1 – Week 7]
I'm a big fan of the earthier Beaujolais crus, the ones I encounter being Juliénas, Moulin-à-Vent, and Morgon. Beaujolais itself tends to be on the lighter side of the spectrum, so the bulkier wines in this category seem to be of an intriguing paradox to me.
The wine was more delicate than I expected. Floral characteristics are usually not my cup of tea. I am immediately reminded of Torrontes, Gewurztraminer, jasmine-flavoured beer, and soap. That being said, both the fruits (cherry, raspberry) and the non-fruits (earth, mustiness, spice) were satisfied hanging with each other in the glass, and the high acid on the palate was well-balanced. The tannin must have been as well, because it was lower than I had recorded, me putting down med- while the instructor agreed on med.
Some of my classmates put this as very good quality. Is the grass greener on the other side? Perhaps, since there are talks of Beaujolais adopting some form of a more complicated cru system, but don't quote me. Loosen tie here. I just listen through the grapevine. You saw that one coming.
Producer: G. Descombes
Designation: N/A
Region: France
Sub-Region: Morgon AOC, Beaujolais
Variety: Gamay
ABV: 13%
Vintage: 2011
Tasted: May 22, 2013
Price: $30