WSET Diploma – Section 1 – Week 1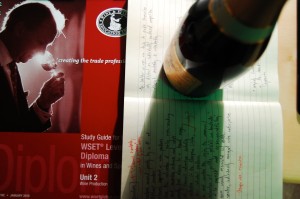 I can't believe I'm saying this, but finally. It's been the same length of a human pregnancy since I've completed the WSET Advanced Certification, and I'm super stoked to be diving right into the WSET Diploma, even though some people pretty much consider it death. Pre-prepping for this through this past semester of university was tricky and hellish.
(First, the shitty details that don't matter: the windows are behind us instead of beside us so I can't gaze and doze off: both good and bad. For a lack of another good detail I'm just going to go ahead and say the lighting is good. Gotta assess that colour.)
What's cool is that there are only about 10 of us in the room. While I once found describing wine horrifying in a 30-people scenario, it feels less scary in this situation – or perhaps I've just been more comfortable about talking about wine after some public speaking about it throughout the past year or so.
The textbook – not EVEN the textbook – the study guide – is huge, and it's only for the second of the six units (Wine Production). The rest of these 12 weeks (Section 1) is a combination of both that and the first unit (Global Business of Wine), and I'm not going to lie – I can't wait to attack these textbooks. I just need to get past a couple more things this month and then I can truly shift my energy. We're also expected to read and learn on our own, which is freaky. You really just have to read everything. Like, actually.
We mainly talked about the business structure of wine as it pertained to Canada, namely BC. It was legitimately fascinating and it was one of things that would sound boring on paper but was actually interesting. I have a feeling that the upcoming weeks won't be as fun. The first week of anything is fun. Better hit the books.
We tasted four wines: two whites and two reds. We didn't formally discuss them, but I think that both pairs of wines were selected to contrast quality and make us think about their pricing and how these wines play a role in the market.
2011 Kris Pinot Grigio della Venezie
2011 Prospect Winery "Ogopogo's Lair" Pinot Grigio
Jackson Triggs "Proprietor's Selection" Merlot
2009 Château Potensac