2011 Kris Pinot Grigio della Venezie
Tasting Note:
Eyes: clear, medium lemon, slow-forming legs
Nose: clean, med- intensity, youthful, mineral, lemon, apple
Mouth: dry, med bodied, med+ acidity, med alcohol, med+ flavour intensity, med alcohol, med finish, lemon, peach
All in all: Good quality: components are in balance, and a med+ flavour intensity suits the nature of the wine. Could be a little bit more complex and have longer length. Drink now; not suitable for ageing.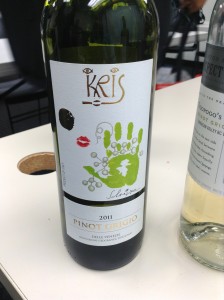 [Tasted during WSET Diploma class – Section 1 – Week 1]
Unlike the other WSET classes I've done, we instead start off with Pinot Grigio. Two of them. Not even Pinot Gris. Fair, I guess, but still slightly underwhelming, but a nice refresher on doing tasting notes.
This time around WSET has simplified colour intensity descriptors, meaning that there will only be three descriptors (pale/medium/deep) instead of the three plus the two extended middling descriptors (pale/medium(-)/medium/medium(+)/deep). I'm not sure whether or not this will be better down the road, but for now it seems like it'll be less annoying when doing a tasting note.
We also have to justify the quality level we give, which I pretty much do in my blog posts anyways. All I have to do is tone down the sass.
I'm guessing that this session was Pinot Grigio heavy because of our discussion on its current popularity in BC, and perhaps in other regions. This one in particular was more of an elegant style, with nothing more than restrained but friendly citrus and green fruit character which was more intense on the palate.
Producer: Kris
Designation: N/A
Region: Italy
Sub-Region: della Venezie IGT, Friuli-Venezia
Variety: Pinot Grigio
ABV: 12.5%
Vintage: 2011
Tasted: April 10, 2013
Price: $20