Jackson Triggs "Proprietor's Selection" Merlot
Tasting Note:
Eyes: clear, med ruby, pale rim
Nose: clean, med intensity, youthful, baked blackberries, blueberries, confectionary
Mouth: dry, med- bodied, med- acid, low tannin, med alcohol, med flavour intensity, short length, juicy fruit from a bit of residual sugar.
All in all: Acceptable quality. The good amount of juicy fruit gives a quaffable nature, but lacks in concentration, complexity, and varietal character. Drink now; not suitable for ageing.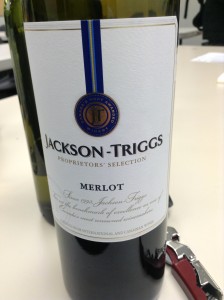 [Tasted during WSET Diploma class – Section 1 – Week 1]
I wouldn't have been able to say this years ago, but now I'm used to it: a wine like this was dominated by a confected and baked fruity nose, mostly cancelling out any varietal character. A second opinion by the palate confirmed that it was thin and out of balance, with a bit of residual sugar that added a juiciness and newbie-attracting character.
In the world of the wine-savvy, this would be given a mere "acceptable quality". Once again though, with wines like this, it's not hard to see why people would enjoy it. The price is right, the region of production attracts Canadian buyers, and the palate is relatively, relatively, relatively inoffensive.
Generally, though, this is thin, simple, and lacking in varietal character. It would have taken me forever to have guessed a Merlot – I've had a "Cabernet Sauvignon" that was lighter than this, and Cab generally has a fuller body than Merlot. It's tough to determine the identity of a wine with no soul.
Producer: Jackson Triggs
Designation: "Proprietor's Selection"
Region: Canada
Sub-Region: N/A
Variety: Merlot
ABV: 11.5%
Vintage: NV
Tasted: April 10, 2013
Price: $9.69