2009 Château Potensac
Tasting Note:
Eyes: clear, deep purple
Nose: clean, med+ intensity, youthful to developing, blackcurrant, nutmeg, oak, chocolate
Mouth: dry, med+ bodied, med acid, med+ ripe tannin, med+ alcohol, med intensity, med+ finish, blackcurrant, oak
All in all: Very good quality: The wine is concentrated in its intensity, complex in its aromas, and is structurally sound; however, although the tannins are ripe, they are slightly off-balance and need time to soften. Can drink now, but has potential for ageing.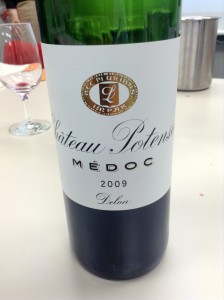 [Tasted during WSET Diploma class – Section 1 – Week 1]
Deep, dark, and concentrated nose dominated by dark fruit and oak, while the palate was concentrated and powerful, and bordered on ripe, so it wasn't surprising to me when others guessed that this was from the New World. Guesses of New World Cab, Washington Syrah, and Cabernet Franc were thrown around, and we were all surprised to find out that this was a Bordeaux from a riper year.
Definitely one of the styles of Bordeaux that can drink now or can develop further. Many of the Bordeaux I've gotten to know can be a bit young at this stage.
A bit of tannin can be weirdly refreshing after a while (sort of like finally getting to chew real food after drinking only soup when you first get braces, or something), but the tannin here was only slightly off-balance. Age can definitely round this fella out, and age can contribute to more complexity.
Sometimes I feel like such a naive little kid saying that I don't fully understand the big household name of Bordeaux. Bordeaux controls a large part of the market, for crying out loud, and their wines drive auctions and sales as well, as an understatement. Mid-priced (for Bordeaux) wines like this seem to wake me up.
Okay, you're delicious. I get it.
Producer: Château Potensac
Designation: N/A
Region: France
Sub-Region: Medoc AOC, Bordeaux
Variety: Merlot (48%), Cabernet Sauvignon (38%), Cabernet Franc (14%)
ABV: 14%
Vintage: 2009
Tasted: April 10, 2013
Price: $60