2011 Prospect Winery "Ogopogo's Lair" Pinot Grigio
Tasting Note:
Eyes: clear, pale lemon, slow-forming legs, some bubbles
Nose: clean, med- intensity, mineral, youthful, pear, apple, peach
Mouth: dry, med- bodied, med+ acid, high flavour intensity, short length, med alcohol, lemon, peach
All in all: Good quality: a relatively high acidity is well-balanced and flavours are concentrated on the palate, but this lacks complexity and length. Drink now; not suitable for ageing.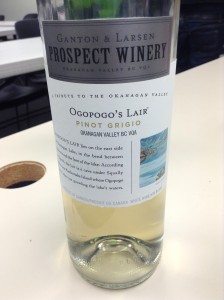 [Tasted during WSET Diploma class – Section 1 – Week 1]
I could tell right away that this was a wine that I was "trained" to turn my nose up at. A relatively neutral nose exploded with bordering-on-spritzy and fresh fruit characteristics on the palate. Definitely a less serious but drinkable wine in a New World style – I almost understand why such a varietal is so popular. Couple that with a great price point and the VQA designation, and it's a definite winner for the crowd looking for a sub-20 local Pinot Grigio.
What kills me is that it's not bad. Everything sounds like a recipe for it at least tasting like complete shit, but it doesn't.
Length is a tough parameter. Although it's one of the measurements of quality, I can't see the regular everyday consumer being particularly picky with it. Perhaps I'm wrong, but it's interesting once in a while hearing that one customer enjoying a certain wine because "it went down like water" or "it left no aftertaste". Who am I to judge?
Producer: Prospect Winery
Designation: "Ogopogo's Lair"
Region: Canada
Sub-Region: British Columbia
Variety: Pinot Grigio
ABV: 12.5%
Vintage: 2011
Tasted: April 10, 2013
Price: $15