2011 Chateau Cailleteau Bergeron Sauvignon Blanc
Tasting Notes:
Eyes: clear, pale lemon
Nose: clean, med+ intensity, passionfruit, floral, citrus (rind), grapefruit
Mouth: dry, light body, med- to med acidity, med- length
All in all: Good quality; drink now.
Compared alongside the 2011 Wild Goose Autumn Gold.
This is SUCH a spring wine. On the nose you get hit with a glass of passionfruit in a garden. The floral notes are well-echoed into the palate with this touch of bitter citrus rind. What was interesting was the acidity, which was lower than what I would have expected from a Sauvignon Blanc. Although an Old World wine, I've heard interesting comments about the fact that this wine sort of bridges between the Old and New World styles, being more fruity and outgoing in character. Although the shorter-than-expected length was a letdown, the character of the wine was prominent enough to outdo that flaw, and who's going to be be paying attention to the length of a wine in a backyard full of non-wine-drinkers anyways? Okay, fine. If you're one of those people.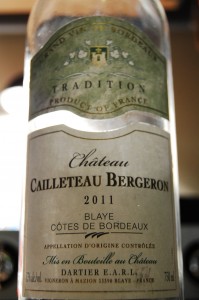 What's great about this wine is that it hits all the dimensions  that you expect (and does it well) for $20. I predict that the BC white blend might play out as more popular tonight compared to this one, but we'll see. Then again, we have tons of wine after these two.
I can definitely see this being a go-to spring-summer wine for 20 bones. Definitely worth a try at this price point.
Producer: Cailleteau Bergeron
Designation: N/A
Region: France
Sub-Region: Bordeaux (Blaye, Côtes de Bordeaux)
Variety: Sauvignon Blanc
ABV: 13%
Vintage: 2011
Tasted: May 12, 2012
Price: $20 (Liberty), $20 (Firefly)