Butterscotch, pineapple, and toasted coconut: Château Carbonnieux Blanc Pessac-Léognan 2010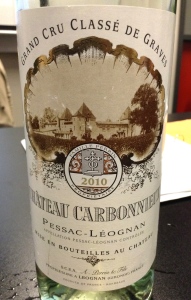 [Tasted during WSET Diploma – Unit 3 – Week 3: Bordeaux]
White bordeaux lives in the shadow of its red parallels as well as its sweet counterparts: some consumers are unaware that Bordeaux even makes whites, which makes sense given the whole lucrative hubbub of the region for its reds. That being said, what's in the market for whites can roughly be split into two camps: there are the more honeyed and oaked white Bordeaux where Sauvignon Blanc lays integrated within the tropical butterscotch, and then there are the modern blends dominated with Sauvignon Blanc which seem like responses to the popular gaudy styles from the new world. This wine lays deliciously in the former checkbox.
The wine is most definitely oaked, but without the buttery texture of a white Burgundy – it has upfront butterscotch and toasted coconut notes, but fruit is much more tropical and honeyed, and acidity is still on the high end. Not much of the grassiness of the Sauvignon Blanc like you would get from the Loire or New Zealand, but its vivacity is still there.
Though this comes from the more southerly region of Bordeaux in Pessac-Léognan, a section of Graves, most white Bordeaux comes from the Entre-Deux-Mers region (which is my kind of EDM). Some fantastic blends do some from other areas of Bordeaux, but the caveat is that they're only allowed to be designated under the big umbrella of Bordeaux AOC, but then again if you're a huge profitable house that only A-list celebrities can afford, maybe you deserve that. Ha. That being said, this was delicious and I'm sad that it's $60 because I'm anything but an A-lister.
Tasting Note:
Eyes: clear, pale lemon, legs
Nose: clean, med+ intensity, developing, oak, hint butterscotch, vanilla, citrus, lemon, ripe lemon, green fruit, apple, honey, toasted coconut, pineapple, marmalade, bit of funk
Mouth: dry, med+ body, high acid, med+ alcohol, med+ length, med+ flavour intensity, green fruit, apple, citrus, oak, butterscotch, citrus, ripe lemon, creaminess
All in all: Very Good Quality: impressive are the intense and complex oak flavours that are balanced out by the ripe fruit, and the fantastic high acid that provide as a counterpoint with the lushness. Though having a relatively long finish, a longer one with more complexity would propel this wine to a higher quality designation. Can drink now, but has potential for ageing.
Identity Guess: High-priced white Bordeaux from Pessac-Léognan, France; 4 years old.
Is really: Premium white Bordeaux from Pessac-Léognan, France; 4 years old.
Producer: Château Carbonnieux
Designation: N/A
Region: France
Sub-Region: Pessac-Léognan, Graves
Variety: Sémillon, Sauvignon Blanc
ABV: 13.5%
Vintage: 2010
Tasted: October 27, 2014
Price: $60