Birthday 2012!
My regular birthday occurs at such an inconvenient time, so I decided on sone pseudo-arbitrary future date on which to PAR-TAY. In terms of wine, though – my friends are all across the board. Some don't drink wine (ouch), some do, some prefer beer, some don't drink at all – you know. I tried to select a bunch of wines that would be crowd pleasers, but not in that sort of overly sleazy way.
I ended up only being able to review the 2011 Chateau Cailleteau Bergeron Sauvignon Blanc and 2011 Wild Goose Autumn Gold beforehand, since I didn't want to open the three sparkling wines (Cava, Moscato, Brachetto) that I did have until we wanted to drink them. We didn't get to open any reds I had except for this generic and jammy Argentinian Malbec a friend bought. Not like anyone could really tell at the point we opened it.
The birthday was wonderful though. We lucked out on some wonderful weather and had some awesome relaxing times in the back yard. Food, music, wine: my goodness. It was pretty much everything I expected it to be and better. Just so good.
Also I sabred two bottles of beer, the Cava, and the Brachetto. Bragging rights!
Some of my friends gave me alcohol gifts (of course), so I have sitting in my "cellar", a blueberry dessert wine, a Canadian Vidal icewine, and a white Minervois. I was also given a mickey of Sourpuss and an awesome bag of coffee beans. Which was awesome. Spoiled myself and bought an Alsatian wine and a Beaujolais (2009 Morgon!) which I really hope to open soon.
A couple of weeks ago I told my friends that I really wanted a themed birthday since I'm almost getting too old for themed birthdays (debatable!!!) and I told them that it might be Harry Potter-themed. Of course I got too hung up on so many things that this never happened, but two of my best baking buddies made Harry Potter-themed cupcakes anyways!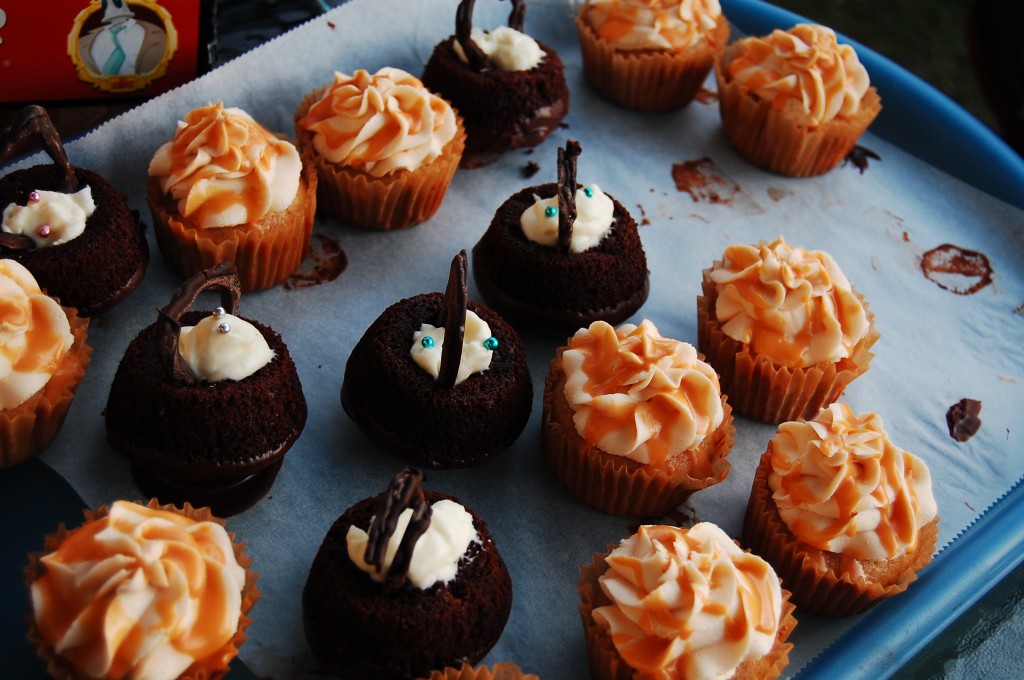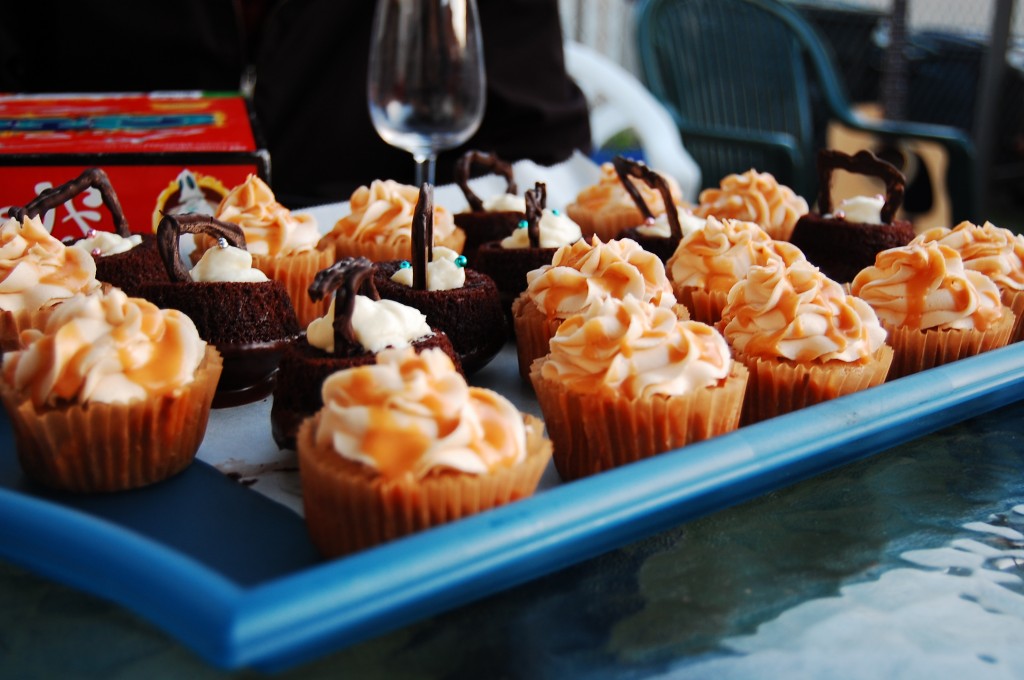 They're supposed to be cauldron cupcakes and butterbeer cupcakes. So. Good. Let me tell you. We attempted to play Quelf, which you can see in the background, and which is mighty fun, but most of us just wanted to chill around and relax and talk, which was awesome.
Ugh, so good. Last summer I tried to do so many things, which was fine, but I think my last summer lacked a bit of this slow relaxation. Perhaps I need to slow down more often. Wine.