2011 Wild Goose Autumn Gold
Tasting Notes:
Eyes: clear, very pale lemon – almost water white
Nose: clean, med intensity, green fruit, lychee, notes of stone fruit, sweet aromas
Mouth: off-dry, med body, med- to med acidity, med- length, tart, round, tropical fruit finish
All in all: Good quality, drink now.
Maybe it's because of the label, but compared to the Sauvignon Blanc I tasted next to this, this was more ripe and more spring sunset than spring sunrise. Don't worry, I'm not sure I know what that means either, and I'm not even sure why I said it. Typed it. Whatever.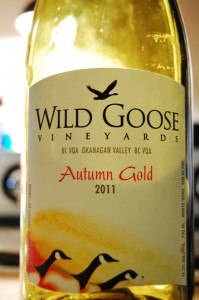 On the nose, you get a whiff of green fruits – almost-ripe apples and pears – with a touch of stone fruit, all wrapped up in this light and sweet tone. The palate carries this off-dry fruitiness that you get on the nose. This blend happens to pull off the blend of Riesling and Gewürztraminer well, balancing the backbone of Riesling with the floral juiciness of Gewürztraminer. I can see this being a big hit tonight, and this very well may be one of my simple-but-not-too-simple-go-to wines for the non-wine drinkers. The rating is a little wobbly. If this were a couple of bucks cheaper it would be more of a solid 3 stars, although it's more of a wobble 2.5-almost 3.
I'm not sure if I smell lychee because I know there's Gewürztraminer in the blend or because I actually smell it. Ah, the misfortunes of not tasting blind.
Producer: Wild Goose
Designation: Autumn Gold
Region: Canada
Variety: Riesling, Gewürztraminer, Pinot Blanc
ABV: 11.3%
Vintage: 2011
Tasted: May 12, 2012
Price: $24 (Liberty), $24 (Firefly), $19 (Everything Wine)